South American Soccer Leader Napout Backs Platini for FIFA Head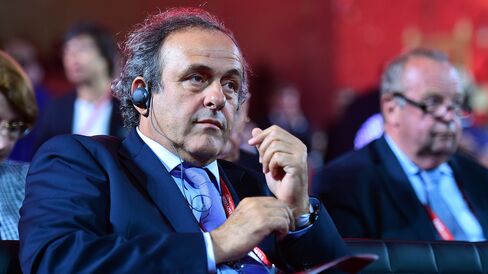 Michel Platini's decision to run to replace FIFA president Sepp Blatter is "great news" for soccer, according to the head of the sport in South America.
Platini, the Frenchman who heads European soccer governing body UEFA, confirmed yesterday that he would stand in February's election to replace Blatter, who's been forced to quit the sport's global organization because of a corruption scandal.
"Platini is a great person," Juan Angel Napout, who heads 10-nation Conmebol, said by e-mail. "We share his vision in looking into the future and think without any doubt that he is the right person for the job."
Napout's support follows that of the Asian soccer president Sheikh Salman and underlines why Platini, recognized as one of the best athletes to have played the game, is considered the favorite to win the election.
Platini has been suggested as a replacement for 79-year-old Blatter for several years, and speculation grew when Blatter announced June 2 that he would quit. Platini, whose been UEFA leader since 2007, consulted soccer leaders before making yesterday's announcement.
"This was a very personal, carefully considered decision, one in which I weighed up the future of football alongside my own future," Platini said in a letter sent to all of FIFA's 209 members.
Platini has yet to give details of reforms he would push for to help FIFA recover from its current crisis. The Frenchman worked with Blatter before becoming one of his fiercest internal critics. He's also been on FIFA's much-criticized executive committee since 2002.
Blatter's opponent in May's election, Jordan's Prince Ali bin Al Hussein, who had been backed by Platini, said the UEFA leader wouldn't be a good choice for FIFA president.
"What is clear is that FIFA needs new, independent leadership, untainted by the practices of the past," Ali said in a statement.
Napout, who became Conmebol president in March, is responsible for trying to clean up his organization, which is at the heart of many of the allegations of corruption made by the U.S. Department of Justice in May. Officials who held dual posts at the South American and FIFA levels received more than $100 million in bribes and kickbacks, the U.S. charges allege.
"He really comes from football and knows whats needed to make changes for good," Napout said of Platini. "We have met Michel long ago and we have supported him since."
One of Platini's rivals in the election, Chung Mong Joon, a FIFA honorary vice president and the second-largest shareholder in South Korean shipbuilder Hyundai Heavy Industries Co., said Platini is unlikely to be the reforming figure FIFA needs.
"Platini enjoys institutional support from the current structure of FIFA," he told the BBC. "Platini is good for football, but whether he can be a good FIFA president? I don't think so. He is a product of the current FIFA system."
Before it's here, it's on the Bloomberg Terminal.
LEARN MORE