Putin Agents Blamed for Spy Murder That Imperiled London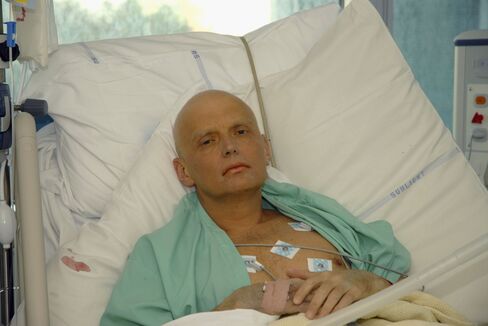 The finger of blame for the murder of ex-Russian spy Alexander Litvinenko "points unwaveringly" at two agents working for President Vladimir Putin, a lawyer for London police said at an inquiry into the killing.
Andrei Lugovoi and Dmitry Kovtun are "common murderers" and should be tried in the U.K. for the 2006 assassination of Litvinenko in London with radioactive material, Richard Horwell, the Metropolitan Police Service's lawyer, said in closing arguments in the inquiry that started in January.
"But as such a trial seems unlikely, our silence must now end," Horwell said in London Thursday.
Litvinenko, a Russian dissident who lived in the U.K. capital, died about three weeks after ingesting the radioactive polonium. British prosecutors said in 2007 that the two men should be charged with murder.
"However many state honors Putin may pin to Lugovoi's chest for services to the motherland, however many conferences Kovtun may hold or how many times Kovtun promises to blow apart this inquiry," they "have no credible answer to the scientific evidence," Horwell said.
Kovtun and Lugovoi met Litvinenko at an upmarket London hotel in November 2006 where a tea pot was later found to contain fatal levels of polonium, lawyers for the inquiry said. The men left a radioactive trail across London putting thousands at risk.
The investigation into the murder has been beset by delays, leaving Litvinenko's widow and son seeking answers for almost a decade.
National Security
An inquest was originally opened in 2006 and then adjourned pending criminal investigations. A subsequent inquest was scheduled to begin in early 2013. That process was held back by procedural delays and its investigative powers were limited by national-security concerns.
Kovtun said in March he intended to give evidence from Moscow at the inquiry, delaying the investigation by three months. Up until this week he was slated to appear, canceling at the last minute.
Putin, a former KGB colonel, awarded a medal of honor to Lugovoi in March and much of the inquiry has looked at Russian state involvement in the murder, mainly behind closed doors.
"Evidence suggests that the only credible explanation is that in one way or another the Russian state was involved in Litvinenko's murder," Horwell said. "There can be no doubt that the Russian state" had its reasons for not "wishing him harm but death."
At an earlier hearing, a lawyer representing Litvinenko's widow said the murder was an "act of state-sponsored nuclear terrorism on the streets of London." The Kremlin has previously denied involvement in Litvinenko's death.
Read this next:
Before it's here, it's on the Bloomberg Terminal.
LEARN MORE