Japan's Minimum Wage Only Enough for a Bowl of Ramen
And workers need a bigger raise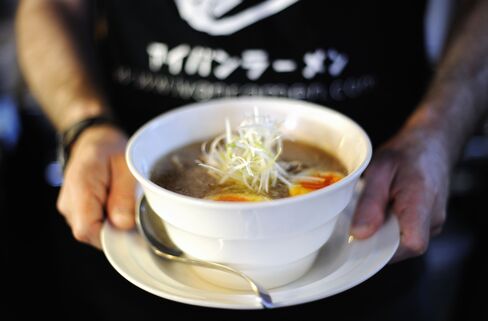 Japan's minimum hourly wage of 780 yen ($6.30) is about enough to buy a bowl of noodles.
A 2.1 percent bump last year didn't keep pace with inflation, and a possible 2.3 percent yen raise this year would be lucky to get workers an egg or extra slice of pork to drop into their ramen lunch bowl.
That's a problem for a country that needs consumers to boost spending to invigorate the economy. A bigger-than-usual hike wouldn't just help struggling low-pay workers. Given a tight labor market, it could contribute to a general increase in salaries sought by the government.
Relative to median pay, Japan's minimum wage is lower than in many other countries, including the United States and Germany.
This gives it scope for a bigger increase this year, which would help consumption and might help push up average pay across the board, according to Giovanni Ganelli, an economist with the International Monetary Fund in Tokyo.
The final decision will be made by officials across Japan's 47 prefectures. They'll gauge local economic conditions before setting minimum levels that could be higher or lower than the 2.3 percent increase to 798 yen that NHK reports a central government panel recommended.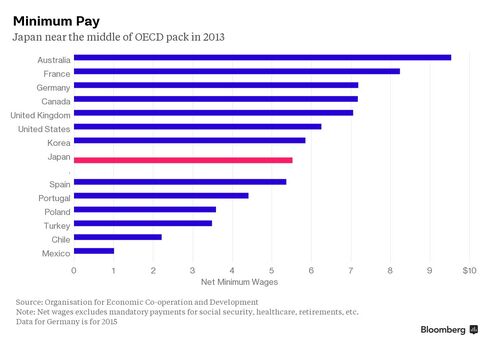 At least 3.2 million of Japan's 66 million workers were doing no better than the minimum last year, according to the labor ministry. For those struggling to make ends meet, the proposed increase means an extra 30,000 yen a year, and that might cover the grocery bill for two weeks in an average household.
"Some businesses are experiencing a labor shortage, so increasing the minimum wage will probably provide more merits than demerits to Japan,'' says Hisashi Yamada, chief economist at the Japan Research Institute in Tokyo.

Before it's here, it's on the Bloomberg Terminal.
LEARN MORE