Gilead Won't Run Out of Hep C Patients, or Dollars, Anytime Soon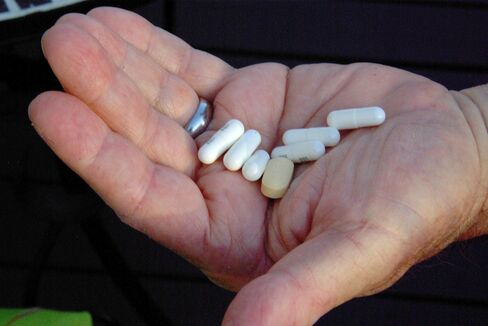 A single pill of Gilead Sciences Inc.'s hepatitis C treatment costs more than an iPhone, and is selling better, too.
In the drug's first full year on the market in 2014, Sovaldi — which costs $1,000 a pill — brought in $10.3 billion. That's more than the Apple Inc. phone generated in 2008, its first full year. Gilead's follow-up drug, Harvoni, is on pace to do even better, with second-quarter sales of $3.61 billion.
Yet each lucrative prescription dispensed represents a patient cured of the viral liver infection — and who will no longer need the pills. As the treatments fly off pharmacy shelves, investors have wondered how long the gold rush can last.
It can last a while.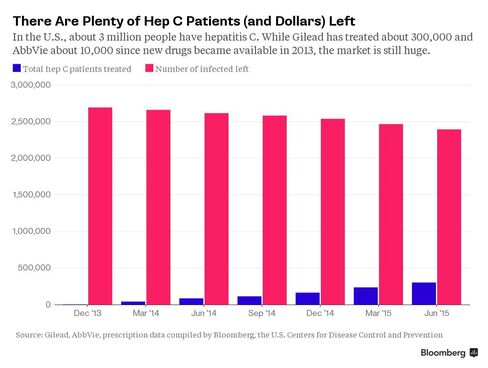 There are about 3 million living with hepatitis C in the U.S., many of whom haven't been diagnosed, according to the Centers for Disease Control and Prevention. Gilead's drugs, and a competing medicine from AbbVie Inc., cure more than 90 percent of those treated. While doctors are seeing patients as fast as they can, they've administered the drugs to only a tiny fraction of the patient population. So far this year, Gilead's drugs have treated about 130,000 in the U.S., and AbbVie's about 10,000, according to the companies and data compiled by Bloomberg.
Many More Left
That leaves more than 2 million, and possibly many more if the CDC's estimates are too low. When Gilead talks to doctors, "all of them tell us that they have many patients in the queue, if you like, waiting for treatment," Paul Carter, Gilead's executive vice president of commercial operations, said Tuesday on a conference call.
Hepatitis C can take years, even decades, to show symptoms. Without an effective treatment until now, there hasn't been widespread screening to identify patients.
Gilead is working on that as well. The company is talking with doctors and public health groups to get people screened to find the hundreds of thousands who have the disease but don't know it, said Carter, further expanding the patient pool.
"We've got about 1.6 million people in the U.S. diagnosed," he said. "We've treated, as you said, maybe 300,000 in the last year or two. There's still a long way."—With Caroline Chen
Before it's here, it's on the Bloomberg Terminal.
LEARN MORE