Deutsche Bank Takes Action on 'Significant' Russian Trades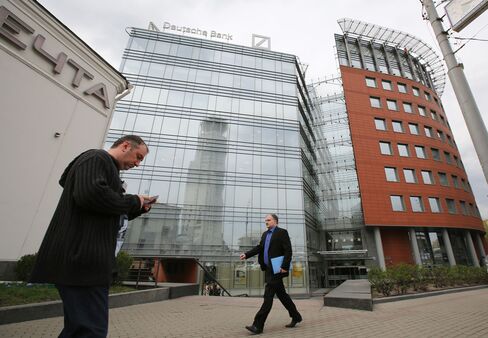 Deutsche Bank AG acknowledged for the first time that it is investigating a "significant" volume of suspicious Russian and U.K. equities trades, adding that it has already taken disciplinary action against a number of people.
The disclosure came as the Frankfurt-based lender reported
1.2 billion euros ($1.3 billion) in legal expenses during the second quarter, more than twice the 550 million euros five analysts had expected.
The bank "is investigating the circumstances around equity trades entered into by certain clients with Deutsche Bank in Moscow and London that offset one another," it said in the statement of second-quarter results. "The total volume of the transactions under review is significant," the bank said, adding that many were cleared in U.S. dollars.
Deutsche Bank is conducting an internal probe of possible money laundering by Russian clients that may involve about $6 billion of transactions over more than four years, people with knowledge of the situation said in June.
The bank also said it has notified regulators and law enforcement authorities in countries including Germany, Russia, the U.K. and U.S. of its inquiry.
Deutsche Bank has taken "disciplinary measures with regards to certain individuals in this matter and will continue to do so with respect to others as warranted," the bank said, without naming individuals or otherwise describing them.
The bank has one of the largest foreign investment banks in Russia, employing around 1,000 people in Moscow and St. Petersburg across its businesses.
(An earlier version corrected a typographical error in the headline.)
Before it's here, it's on the Bloomberg Terminal.
LEARN MORE