Tsipras Says Greece Won 'Crucial' Commitment for Debt Relief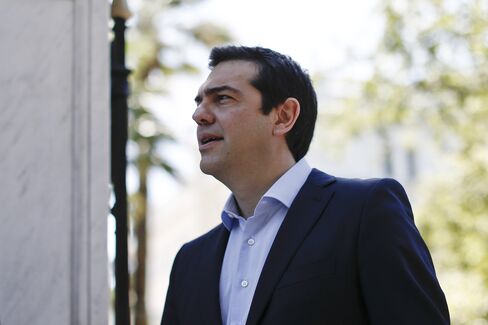 Prime Minister Alexis Tsipras expressed confidence that Greece's creditors will grant debt relief and blamed their intractability for worsening the country's economic plight.
"The Greek people were prisoners, who after they escaped prison were immediately arrested and returned to an even smaller cell," Tsipras, who turned 41 on Tuesday, told an Athens radio station. "What's crucial is that we got a commitment for debt relief, which will take place after the first review of the program, in November."
Easing Greece's debt burden has been a major sticking point in six months of talks between the government and its creditors, which led the country to the brink of euro exit. While the International Monetary Fund expressly supports debt restructuring as part of the rescue package, European donors led by Germany have been less willing.
Tsipras said the eleventh-hour accord reached on July 12 fully covers financing needs for the next three years and so paves the way for debt relief. Officials from Greece and its creditor institutions are meeting in Athens this week on policies that must be implemented in return for loans of as much as 86 billion euros ($94 billion).
Liquidity Assistance
The European Central Bank, which controls the liquidity Greek banks rely on to operate, agreed on Wednesday to keep the ceiling on the Emergency Liquidity Assistance facility unchanged at 90.4 billion euros ($100 billion), people familiar with the matter said. The Bank of Greece, which operates the lending facility, didn't ask for a weekly increase, the people said. An ECB spokesman declined to comment on the decision.
The imposition of capital controls a month ago has helped stabilize withdrawals from the banking system, even as it imposed restrictions on the functioning of the Greek economy.
The curbs on cash withdrawals and transfers were introduced on June 28, following Tsipras's decision to end talks with creditors and hold a referendum on their latest proposals. Banks reopened with limited services last week, after Tsipras agreed to negotiate a new loan facility attached to austerity measures. The country's stock market remains closed.
Tsipras criticized the measures his country is being asked to sign up to in return for fresh aid.
The deal provides for the "continuation of austerity in an indirect manner, for example through sales tax hikes in restaurants, a measure which will not bring any results in my opinion, and this is a problem," he said, in an interview on Sto Kokkino radio, which is affiliated to his Syriza party. "But we don't have nominal cuts in salaries and pensions"
Tsipras defended his brinkmanship in negotiations, even though he has since then accepted austerity measures harsher than those intially offered.
"I don't regret anything that's happened over the past five months," Tsipras said. "As for the economy, the situation is reversible."
Read this next:
Before it's here, it's on the Bloomberg Terminal.
LEARN MORE