Samsung May Cut Galaxy S6 Price After Fifth Straight Profit Decline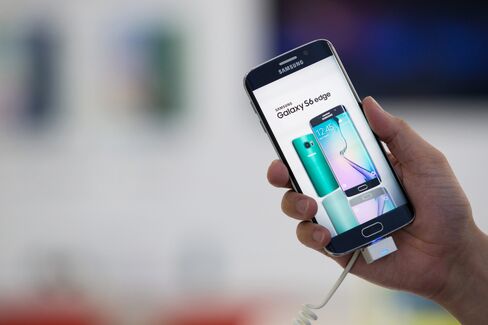 Samsung Electronics Co. signaled price cuts for its high-end Galaxy S6 smartphones to combat a market slowdown and surging sales of Apple Inc.'s iPhones after posting a fifth straight profit decline. Shares fell.
The company will be "adjusting" prices for the S6 and for the curved-screen S6 Edge to maintain sales growth, Samsung said Thursday. Net income, excluding minority interests, fell to 5.63 trillion won ($4.9 billion) in the three months ended June, missing estimates and triggering the biggest decline in shares in four months.
Samsung misread demand for the S6 models released in April, failing to produce enough three-sided screens for the Edge while the regular version struggled to challenge bigger iPhones. Samsung, the biggest seller of phones using Google Inc.'s Android software, brought forward the release of its next high-end device and is adding cheaper models.
"Poor sales of S6 only proved that it can't beat Apple in brand loyalty among users and just ended up being one of the many Androids," said Yoo Eui Hyung, an analyst with Dongbu Securities Co. in Seoul. "The price cuts may increase sales, but I highly doubt it could promise bigger profit growth."
Shares of Samsung fell 3.8 percent to 1,215,000 won in Seoul. The stock has lost 8.4 percent this year, trailing the 5.4 percent gain in the Kospi index.
Samsung doubled its interim dividend to 1,000 won a share.
Sliding Share
Operating profit at the mobile phone unit slumped to 2.76 trillion won from 4.42 trillion won a year earlier. Samsung sold 89 million handsets, with smartphones accounting for more than 80 percent of those.
Samsung will add more middle- and low-end models, and cut spending in the phone division, it said.
"In order to drive up the shipment, we will actively respond to the market, which could have a negative impact on our average sales price," Park Jin-Young, vice president of mobile communications, said during a conference call. "There's a possibility that the third-quarter sales price could slightly drop."
South Korean carrier KT Corp. this month cut S6 prices by as much as 110,000 won.
Samsung plans to increase its capacity for making curved screens early next year and will supply the displays to other makers, said Lee Chang-Hoon, vice president of the panel-making unit.
The company, which had projected record sales for the S6, started making curved screens at a third factory about two months earlier than planned to meet demand for the Edge.
China 'Problem'
Once the biggest vendor in China, Samsung has dropped below Apple and domestic producers Xiaomi Corp. and Huawei Technologies Co.
"China is becoming a problem child for Samsung that it needs to fix," said Neil Mawston, executive director of the research firm Strategy Analytics.
Samsung will unveil its next Note device on Aug. 13, earlier than the company's usual schedule. Apple typically releases a new product in the second half of the year.
Profit at Samsung's semiconductor business, which makes memory chips and applications processors, was 3.4 trillion won, compared with 1.86 trillion won a year earlier.
The chip division was the biggest beneficiary of the new S6 as its mobile unit switched to in-house applications processors and modem chips instead of those from Qualcomm Inc.
"Its smartphone slump could spill over to other component businesses, including chips," said Lee Seung Woo, an analyst at IBK Securities Co. in Seoul.
The consumer-electronics division, which oversees TVs and home appliances, posted a 210 billion-won profit in the quarter, compared with 770 billion won a year earlier.
Before it's here, it's on the Bloomberg Terminal.
LEARN MORE