Nintendo Turns to Profit on Hit Game Splatoon, Weaker Yen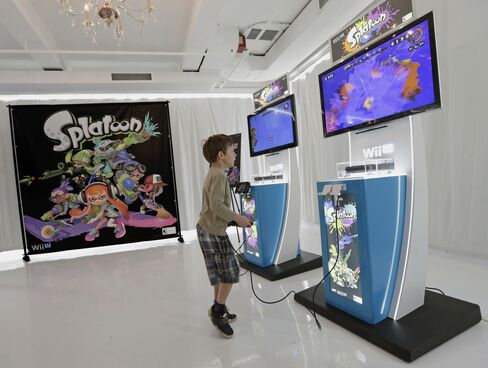 Nintendo Co. returned to profit helped by sales of the new Splatoon game and the weaker yen in the last quarterly results overseen by President Satoru Iwata before his death.
Net income was 8.28 billion yen ($67 million) in the three months ended June, compared with a loss of 9.9 billion yen a year earlier, the Kyoto, Japan-based company said. That compares with the 362 million-yen average profit of five analysts' estimates compiled by Bloomberg.
Nintendo is trying to spark demand for the Wii U console with Amiibo interactive figurines and Splatoon while also working with DeNA Co. on its first game for smartphones to win back casual gamers. Shigeru Miyamoto, creator of Super Mario and Zelda, and Genyo Takeda, architect of the original Wii, are jointly leading the management team since Iwata's death July 11.
"The impact from the yen was even more than expected, helping the company beat market consensus," Makoto Kikuchi, chief executive officer of Myojo Asset Management Co. "They need to move quickly to decide on new leadership that can set a clear direction for the company going forward."
The company booked a 10.8 billion-yen windfall from the weaker yen, with the Japanese currency's decline boosting the repatriated value of overseas sales.
Original Games
The euro strengthened about 6 percent against the yen in the quarter to June 30, while the dollar appreciated about 2 percent. The European currency traded at 136.48 yen and the greenback at 123.66 yen on Wednesday, compared with Nintendo's annual estimate of 125 yen and 120 yen, respectively.
Nintendo rose 4.6 percent in early Frankfurt trading on Wednesday.
The shares closed 1 percent lower at 20,500 yen in Tokyo before the earnings were announced. They have gained 46 percent since March 17, when the company announced the partnership with DeNA, which also will operate membership services that include applications based on Nintendo's characters.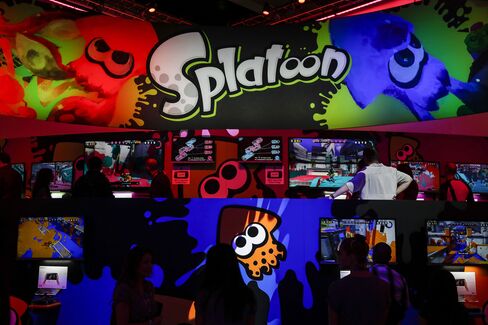 The partners will develop original games optimized for smartphones and tablet computers rather than converting titles from the Wii U and 3DS.
Nintendo resisted turning to smartphones for years, saying its games were designed for its own machines, where players can use a joystick and physical buttons to move through the virtual world.
"Everyone seems to be pricing in a smartphone success story for Nintendo," Eiji Maeda, an analyst at SMBC Nikko Securities Inc., said before the earnings release.
At the same time, Nintendo is working on a new console, code-named NX. It hasn't released any details.
Splatoon Sales
Sales for the quarter were 90.2 billion yen, compared with analyst expectations for 78.3 billion yen. Operating profit was 1.15 billion yen, compared with analysts' estimates for a loss of 6.27 billion yen.
Splatoon, Nintendo's first foray into the online shooter genre, sold 1.26 million units after its May introduction. The game won fans and critics with its family-friendly action, where players spray ink instead of bullets. Splatoon ranked No. 5 in U.S. software sales in June, according to researcher NPD Group.
Sales of the Wii U were 470,000 units in the quarter. The company is targeting 3.4 million units this fiscal year. It sold 4.2 million Amiibo figurines for a total of 14.7 million units since their introduction.
The company also sold 1 million 3DS players.
Nintendo announced a partnership with Universal Parks & Resorts to offer theme-park attractions based on the Japanese company's intellectual property. Iwata said at the time the content may be used in an attraction, without giving further details.
"The turnaround will happen after Nintendo has launched its first smartphone game," Atul Goyal, an analyst at Jefferies Group LLC, wrote in a report dated July 28. "From here onwards, it is well positioned to regain previous highs in profits and the stock price, if it executes half as well as it's capable of."
Read this next:
Before it's here, it's on the Bloomberg Terminal.
LEARN MORE