The Federal Reserve's July meeting Wednesday won't steal the thunder from the U.S. economy's report card due on Thursday at 8:30 a.m.
The release from the Commerce Department promises to offer double the usual excitement: One, it'll show how strongly growth rebounded in the second quarter from the inclement weather and West Coast port labor disputes that depressed the economy early in the year. Two, due to revisions that happen once a year and some new adjustments, it'll reveal whether gross domestic product really contracted in the January to March period.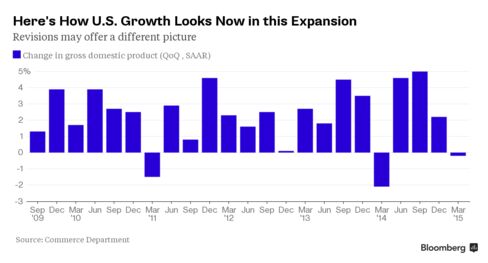 Gross domestic product rose 2.5 percent, according to the median forecast of economists surveyed by Bloomberg, following a 0.2 percent drop in the first quarter. Consumer spending, which accounts for about 70 percent of the economy, probably climbed 2.7 percent.
"There's more uncertainty attached to the numbers this time, which could make things interesting,'' said Brian Jones, a senior U.S. economist at Societe Generale in New York. "You don't know what the history is for the prior quarter, so you've got to take everybody's second-quarter estimates with a grain of salt.''
Still, it's clear that a strong job market, healthier finances backed by gains in equities and property values, cheaper gasoline and low borrowing costs are sustaining household purchases, he said.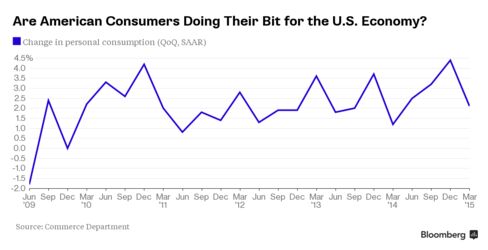 Elsewhere in the GDP report, analysts expect housing to brighten, while business investment and exports probably took a knock last quarter from lingering woes in the oil industry, cooling overseas markets and the strong dollar.
The Commerce Department will also tweak data going back to 2012 to take into account new information and to attempt to reduce so-called residual seasonality, which some economists believe persistently depresses first-quarter growth. Economists at BNP Paribas and Societe Generale project GDP for January through March will end up showing a gain instead of a drop.
Therein lies an element of surprise: the more the first quarter gets revised up, the harder it'll be for the second quarter to show a strong rebound, said Michael Gapen, Barclays Plc's New York-based chief U.S. economist.
With so many changes in play, the GDP report -- coming on the heels of the Fed meeting -- "will be even more important'' than the takeaways from the central bank's gathering, according to Gapen. Fed policy makers said Wednesday that the labor market and housing had improved, moving them closer to the first interest-rate increase since 2006.
So is the U.S. making the kind of progress the Fed needs to see, amid weakening global growth and concerns about China and Greece? Stay tuned for the GDP data.

Before it's here, it's on the Bloomberg Terminal.
LEARN MORE