Here's How Much the Strong Dollar Hurts American Companies
The dollar's strength caused a third of the recent decline in U.S. companies' foreign subsidiary profits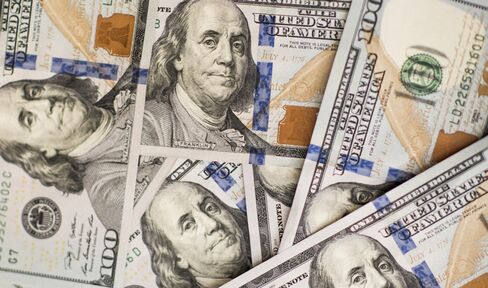 American companies had a rough start to 2015 as they watched profits from overseas subsidiaries slide. Exactly how much blame should we assign to the currency markets? Two economists at the Federal Reserve have an idea.
U.S. corporate profits fell about 1.4 percent in the fourth quarter last year before plummeting 5.2 percent in the first quarter this year, partly driven by a plunge in the amount American companies' foreign affiliates earned. Of the decline in overseas subsidiary profits caused by the appreciating currency and cheaper oil imports, about a third probably came specifically from the greenback, Carol Bertaut and Nitish Sinha wrote in a post this month.
Fed policy makers have voiced concern about the strong dollar's drag on exports, both in Federal Open Market Committee minutes and in speeches (the FOMC will release a new policy statement at 2 p.m. on Wednesday). It's a major point of concern for monetary policy-watchers as Fed officials debate when to go ahead with the first interest rate increase since 2006.
The dollar has appreciated by about 9.6 percent against the euro and 3.4 percent against the yen this year. A stronger currency hurts company earnings because U.S. exports become less competitive with goods produced abroad, and if corporations haven't hedged overseas profits, they translate into fewer dollars.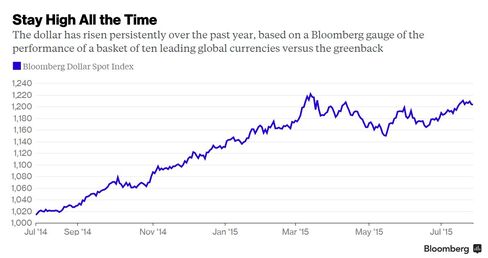 The Fed economists built a model to estimate how two factors majorly weighing on exports right now -- the strong dollar and cheap imported oil -- are contributing to the decline in income earned by foreign affiliates. They found that the decrease in gas prices and an appreciation in the dollar could have cut into direct investment income receipts by 14.5 percent between the end of September 2014 and the end of March, with 5.6 percent tied to the dollar's rise. A drop in oil prices weighs on energy and utility companies.
By examining financial markets, economists also found that stock market investors have been factoring the strong dollar into their expectations for corporate earnings and portfolio allocation, causing the shares of companies with high overseas sales to under-perform by more as the dollar began to appreciate last summer. Firms with high foreign sales have also experienced comparatively large downward revisions to year-end earning expectations in eight out 12 months over the past year, they found, though that effect has faded as the dollar has recently stabilized.
"An encouraging sign from financial markets is that much the effect of the dollar's appreciation since last summer may have already shown through to U.S. corporate profits, given the recent stability in stock prices of internationally exposed firms and in the analysts' expectations," the economists wrote.
Whether that proves prescient could be crucial to Fed policy makers as they try to assess where the economy is headed going into their big policy move.

Before it's here, it's on the Bloomberg Terminal.
LEARN MORE