Ukraine War Risks Reigniting as OSCE Warns of Troop Buildup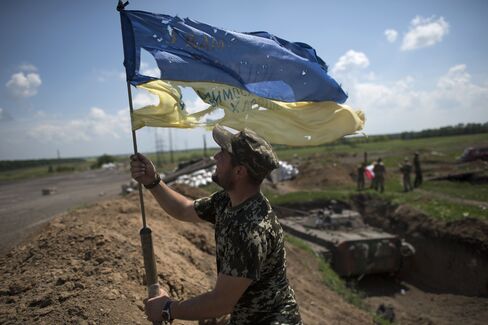 The battle readiness of Ukraine's military and the rebels it's fighting in the country's east is at its highest level since a February truce, monitors warned, a situation that risks tipping the conflict back into war.
After more than a year of fighting, sides are fortifying positions and amassing weapons, said Alexander Hug, deputy chief of the Organization for Security and Cooperation's mission in Ukraine. His comments follow a report Monday that cease-fire violations had reached a daily record. Civilian casualties have also risen.
There's "a preparedness of both sides to a degree we haven't seen before," Hug told reporters Tuesday in Kiev. Three OSCE monitors have been imperiled in the last three days, jeopardizing the group's presence in Ukraine, he said.
One Ukrainian soldier died and 12 were wounded in the past 24 hours, while the separatists used multiple rocket launchers for the first time in five weeks, the military said Tuesday.
Tensions are building amid a crucial phase for the peace plan, signed in Minsk, Belarus more than five months ago. At stake is the constitutional status of the rebel-held territory in Ukraine's industrial heartland, near the Russian border, and the election of officials in those regions. The leaders of the nations that sealed the Minsk deal -- Ukraine, Russia, Germany and France -- have spoken twice by phone in the past two weeks.
Autonomy Question
At least two civilians were killed and one was wounded in the town of Horlivka in the Donetsk region, the rebel-controlled news service said by phone on Tuesday. The conflict has killed more than 6,700 people, according to the United Nations.
While Ukraine passed legislation this month granting greater autonomy to the separatists' self-proclaimed republics, the move was criticized as insufficient by the rebels and by Russia. The U.S. says Ukraine has met its obligations.
"Ukraine is implementing the Minsk agreement; Russia and its proxies are not," Geoffrey Pyatt, the U.S. ambassador to Ukraine, said on a conference call Tuesday.
Ukraine needs the war to abate as it seeks to rebuild an economy mired in its second year of recession, renegotiate its foreign debt and restore confidence in the hryvnia, this year's worst-performing currency against the dollar.
Before it's here, it's on the Bloomberg Terminal.
LEARN MORE