P&G CEO Lafley Said to Be Close to Passing Reins to Taylor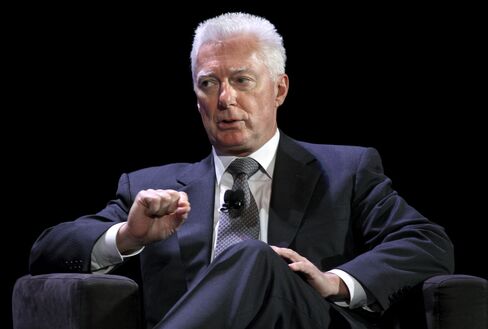 Procter & Gamble Co. Chief Executive Officer A.G. Lafley may announce his retirement this week after a board meeting Tuesday, a person familiar with the matter said, setting the stage for heir apparent David Taylor to take the reins.
The announcement could come as soon as Thursday, when Lafley is scheduled to speak on P&G's fourth-quarter earnings call, according to the person, who asked not to be identified because the plans aren't public. The Wall Street Journal reported on Monday that Taylor's elevation to the top job may be announced that day.
Lafley, who has served two terms as CEO, interrupted his retirement in 2013 to lead a turnaround at the Cincinnati-based company. The overhaul has included a plan to exit about 100 underperforming brands, an effort that is now largely completed. He telegraphed early on during his latest tenure that he didn't plan to stay long, and people familiar with the situation have said that Lafley will step aside before P&G's annual meeting in October.
P&G rose 0.3 percent to $80.23 at the close in New York. The shares have slid 12 percent this year, compared with a 1.7 percent increase for the Standard & Poor's 500 Index.
As part of Lafley's plan to streamline the consumer-products giant, it agreed to sell 43 of its beauty brands to Coty Inc. earlier this month for about $12.5 billion. The transaction will be conducted as a tax-saving Reverse Morris Trust, meaning P&G will spin or split off the business, which will then merge with a Coty subsidiary. With the sale, P&G cedes its position as the largest beauty-product seller to L'Oreal SA, according to Euromonitor International.
Work in Progress
"Lafley started a process which the new CEO will have to follow," said Peter Crist, founder and chairman of executive recruiter Crist Kolder Associates. "So it will be a while before the new CEO can be measured for his own strategy."
Taylor was made president of the company's global beauty group in January, a move that put him in position to take the helm from the 68-year-old Lafley. Still, the old CEO may stay on for a period after the change is announced, according to the person. It's also not clear how long Lafley will retain the chairman role.
'More Continuity'
"We do not see David Taylor as a big driver of seismic change," Ali Dibadj, an analyst at Sanford C. Bernstein & Co., wrote in a note Tuesday. "Our experience and industry contacts suggest that Taylor will be more continuity than change at P&G."
As the next CEO, Taylor would inherit a slimmed-down company that has lost a clear pathway to growth. Sales are projected to decline 8 percent to $76.4 billion this year, according to analysts' estimates compiled by Bloomberg, with an additional 1 percent drop next year.
The revamped P&G will have to compete against a host of upstarts, which are winning customers with natural and organic brands. It's also fighting stiff competition on price, and the company has to convince a new generation that it's worth paying up for P&G names like Tide, Crest and Pampers.
Taylor, widely cited as the company's heir apparent, joined P&G as a production manager in 1980 after graduating from Duke University with an electrical engineering degree. He's held at least 18 jobs at the company over the past 35 years, including the brand manager for Pampers in the 1990s and the vice president of greater China hair-care and anti-counterfeiting efforts in 2001.
Before it's here, it's on the Bloomberg Terminal.
LEARN MORE