Oaktree Sees Brew of China, Oil, Greece Cracking Markets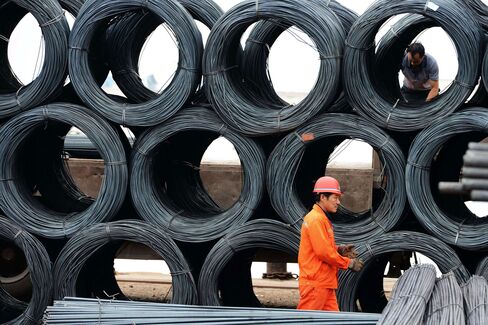 The past few years have been frustrating for the world's biggest distressed-debt investor, as soaring markets kept companies clear of trouble. For Oaktree Capital Group LLC, its time to shine is getting closer as China, commodities, Greece and Puerto Rico threaten to crack markets.
"Relative tranquility belies the fact that there's still plenty to worry about," Bruce Karsh, Oaktree's co-chairman, said Tuesday on a conference call with the firm's investors. "The U.S. economy recovery remains tepid, interest rates are poised to rise sometime in the coming year and the global economic environment is quite unsettled with the overhang of the Greek debt crisis and the slowing Chinese economy."
Oaktree executives Karsh, Howard Marks and John Frank have lamented the high-priced environment in the U.S. since at least 2013, when the Standard & Poor's 500 index was still only in the middle of a four-year run that started in 2011. Buoyant debt markets have enabled troubled companies to refinance, with 53 defaults globally last year, an 80 percent drop from the peak in 2009, according to Moody's Investors Service.
Oaktree has distributed almost all of the money and profits from a $14.5 billion distressed debt fund raised before the 2008 financial crisis. The Los Angeles-based firm on Tuesday said second-quarter profit dropped 37 percent from a year ago, when it was selling assets from the Opportunities Fund VII pool.
The firm has prepared for a coming crisis by gathering almost $10 billion for a new distressed debt vehicle, Opportunities Fund X. A further slump in commodities prices or the Chinese stock market may set off enough opportunities for Oaktree to seek more money, Karsh said.
Global 'Cracks'
"To the extent that we see further cracks in the general environment -- either commodities markets, effect of China slowing -- we may well decide to increase the amount that we raise above $10 billion," he said. "Perhaps well above."
Karsh also cited Puerto Rico's "deteriorating" debt as one of the factors heightening market volatility and creating new investment opportunities.
One measure of volatility, the Chicago Board Options Exchange Volatility Index, has dropped to 13.3 from about 20 on July 9 after Greece reached an agreement with creditors over a bailout program. The high-yield debt market though is showing signs of weakness, with junk bonds headed for their second consecutive monthly loss, driven by companies tied to commodities.
Oaktree continues to evaluate potential oil and gas deals, as oil this week traded in a bear market amid surplus supplies and concern that Chinese demand will wane. Karsh said the firm has "a lot of dry powder" available for energy investments.
"As things get worse and worse, the opportunity set for us opens more and more," he said of oil and gas industries. "The psychology is starting to turn negative, but it's just beginning. We haven't dived in yet."
Before it's here, it's on the Bloomberg Terminal.
LEARN MORE