Oil Producers Skirt Keystone Snag as Obama Said Near Rejection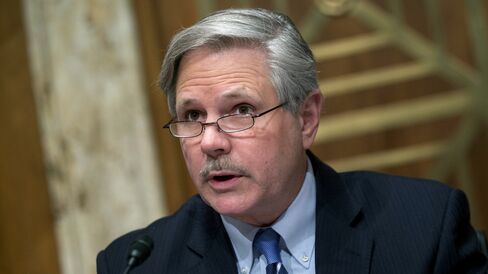 The oil-sands industry is working around delays to the Keystone XL pipeline as the outlook dims for its approval any time soon.
Senator John Hoeven, a North Dakota Republican and leading congressional supporter of the $8 billion proposal, cited unidentified "sources" Tuesday in predicting President Barack Obama will reject it in August. The denial would block a project designed to ship 830,000 barrels a day of crude to Gulf Coast refineries, mostly from Canada's oil-sands.
After repeated delays since TransCanada Corp. applied for U.S. permission to build the line in 2008, producers are turning to costlier trains and expansions of existing systems to transport their crude. Other pipelines are also being planned to Canada's coasts, including one by TransCanada to the Atlantic.
"The earliest we'll now see it, we think, is in 2018" under the next U.S. president, said Patrick Kenny, an analyst at National Bank Financial in Calgary. "That's why Canada and TransCanada have gone with this Plan B."
Keystone XL has become one of the most contentious energy issues of Obama's presidency. He has repeatedly challenged its benefits to the U.S. and vetoed a Republican-backed bill that would have bypassed a State Department review and cleared the way for construction, because it would circumvent the administration's review.
'Multiple Sources'
"What I'm hearing from multiple sources is that he is going to turn down Keystone when we're out in August," Hoeven told Bloomberg BNA's Ari Natter after a speech on the Senate floor Tuesday in which he discussed the project. "I got a couple sources, and that's what they're saying. But I can't tell you who."
The Obama administration hasn't said when a decision will be made. Frank Benenati, a White House spokesman, declined to comment on Hoeven's prediction, referring questions to the State Department. The department didn't immediately comment.
"If indeed these rumors are true with what Senator Hoeven has said today, it's a victory for our opponents," James Millar, a TransCanada spokesman, said Tuesday by phone. "We would simply be making a choice of saying 'Yes' to oil from Iran and Venezuela and 'No' to oil from Canada and the U.S. Bakken."
Among alternatives to Keystone, Enbridge Inc. can now move more than 800,000 barrels a day of Canadian crude to the U.S. after completing an expansion to its cross-border Line 67 system.
Oil by Rail
Exports of Canadian oil by rail rose to about 120,000 barrels a day in the first three months of the year, more than seven times the volumes of early 2012, according to data from Canada's National Energy Board. TransCanada's Energy East line to the Atlantic would be able to carry 1.1 million barrels a day.
"When you see the expansion of the Enbridge line and we are bringing in so much crude from Canada, it doesn't seem there is an impetus to get Keystone up and running now," said Carl Larry, head of oil and gas for Frost & Sullivan LP in Houston.
Washington has played host to a massive lobbying fight over Keystone XL. Environmentalists oppose the project because they argue it would promote development of the Alberta oil sands, which release more greenhouse gases than conventional drilling. Backers say the project would create thousands of jobs and boost ties to a close ally.
"It's not a question of whether this project will be approved; it is a matter of when," Greg Rickford, Canada's natural resources minister, said in an e-mailed statement. He said development would be environmentally responsible. "We will continue to strongly advocate for this job-creating project."
'Export Pipeline'
The pipeline originating in Alberta would carry crude across Montana, South Dakota and Nebraska, including some U.S. supplies, and connect to an existing network that extends to the Gulf Coast.
Obama hasn't said how he'll decide but has been critical of the project, calling it an "export pipeline" that wouldn't benefit U.S. drivers. He called the process of extracting Alberta's oil sands "extraordinarily dirty," at a March event in South Carolina.
Hoeven said on the Senate floor that Obama would wait until the August recess because the timing would mean less "pushback" from Congress. The House is scheduled to begin its recess this week, with the Senate following next week.
He said he may try again to force approval of the project in an amendment to an energy bill now under discussion in the Senate.
For more, read this QuickTake: Oil Sands and the Environment
Before it's here, it's on the Bloomberg Terminal.
LEARN MORE