In Defense of Donald Trump*
*As a golf course impresario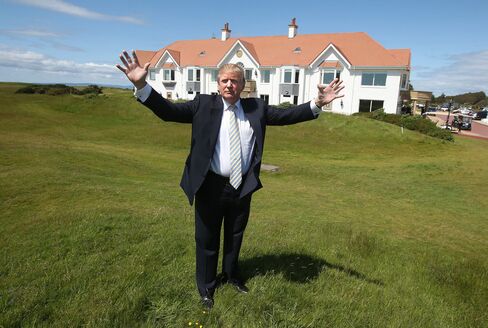 In the golf world, Donald Trump is regarded as a successful operator of first-rate courses. In the rest of the world, he's widely known as a relentless promoter with an outsize opinion of his own worth, net and otherwise. Reading the Republican presidential candidate's personal financial disclosure forms, it's possible to find evidence supporting both of those reputations.
According to the forms, Trump owns at least 15 golf clubs with about $190 million in revenue. Let's call that an average of $10 million per golf course—some of the clubs, like Doral, in Miami, have more than one course—and let's assume, for a moment, that the disclosure described 12-month revenue data (it isn't entirely clear).
That's more than triple the revenue of a typical golf course, said Steven Ekovich, national managing director for the Leisure Investment Properties Group at real estate brokerage firm Marcus & Millichap. Many of Trump's courses charge hefty membership fees, and can expect to make more on food and beverages, and by hosting special events, than the average municipal course, which relies on collecting daily greens fees. Still, Ekovich said, Trump's golf revenues stand out.
"Most people in the golf industry would be salivating at those revenue numbers," he said.
It's not just the cash Trump's golf courses are bringing in that's likely to incite envy. The valuations the filings place on the courses also look rich, particularly when compared with recent golf course deals, as CNBC.com observes here. Last year, Orlando-based CNL Lifestyle Properties sold a portfolio of 48 golf courses, which generated $158 million in revenue in 2013, for $320 million. Two months later, Dallas-based ClubCorp Holdings agreed to pay $265 million for a portfolio of 50 golf clubs with about $100 million in annual revenue.
Bloomberg Politics: Here's Our Tally of Donald Trump's Wealth
Considered as a multiple of annual revenue, Trump's golf clubs blow those deals out of the water. For instance, there is the Trump National Golf Course at Colts Neck, N.J., a "challenging links-style design" on the Jersey Shore. The course notched $6.6 million in revenue, according to the disclosure document, which would give it a value of about $17.5 million if we applied the 2.65 multiplier from the ClubCorp deal. The disclosure document valued the course at "over $50,000,000."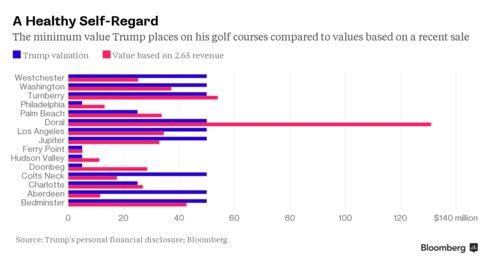 That calculation is back-of-the-envelope. For one thing, Trump described valuations only within a range. He said his golf club in Doonbeg, Ireland, was worth between $5 million and $25 million; others are simply listed as being worth more than $50 million. (For example, Trump National Doral, which Trump bought out of bankruptcy in 2012 for $150 million, appears undervalued above because the chart uses his minimum values, and that property has three courses and a lot of annual revenue.) In addition to Colts Neck, Trump valued courses in Aberdeen, Scotland, and Briarcliff Manor, N.Y., at more than five times revenue.
There's also some confusion over the time period described by the revenue numbers included in Trump's federal disclosure. Candidates are supposed to report disclosures for the prior year through the filing date, which in Trump's case would be 18½ months. Ekovich, who is familiar with the financial performance of Trump's golf club in Jupiter, Fla., having brokered its sale in 2012, said the golf course revenue numbers in the document represent annual performance. Trump spokeswoman Hope Hicks declined to comment on the financial disclosures.
In total, Trump said, his golf businesses are worth at least $500 million. He has a reputation of putting aggressive valuations on his net worth; his statement announcing his disclosures claimed his net worth is "in excess of TEN BILLION DOLLARS" (his caps).
Oh, in his defense.
Well, not to inflate any valuations here, but we shouldn't discount the value of Trump's name in the golf world. High-end courses like the ones Trump operates are esoteric businesses. Some, like his course in Bedminster, N.J., charge initiation fees said to exceed $300,000; others, like Doral, have a hotel attached. His course in Los Angeles overlooks the Pacific Ocean, making its clubhouse a popular place to eat, drink, or host a wedding. The Bloomberg Billionaires Index values Trump's golf properties at $490 million, and other resort properties at $80 million.
Even without high-priced memberships or glamorous hotels, Trump has shown he can wring revenue from a golf course. Earlier this year, he opened a new course on top of a defunct landfill in the Bronx. The course, called Ferry Point, has brought in $1.9 million, according to the disclosure document, an impressive haul since the city-owned course doesn't require membership fees.
"I would say he's probably overvalued some and undervalued others," said Hilda Allen, an Adel (Ga.)-based broker. "But it's not fair to compare his to others, because Trump's are so good. They are second to none."
Before it's here, it's on the Bloomberg Terminal.
LEARN MORE