Mining Company's Shares Rebound After Announcing Cost-Cutting Plan
Investors punished Freeport-McMoRan Inc. for failing to react to plunging metal prices when reporting quarterly results last week. Now its attempt to catch-up is being rewarded.
The stock surged as much as 12 percent Tuesday, the biggest intraday gain in six years and the most among competitors tracked by Bloomberg, after the Phoenix, Arizona-based miner promised a sweeping operational review. In the prior three days Freeport lost 25 percent, the worst performance among peers.
"It's a step in the right direction," Christopher LaFemina, an analyst with Jefferies LLC in New York, said by telephone.
Faced with the lowest prices in six years, the largest publicly traded copper miner said in a statement Tuesday that it will focus on cutbacks that maximize cash flow and strengthen its balance sheet. The company said it will review its mine plans and may cut production of copper and molybdenum to preserve supplies for when market conditions improve.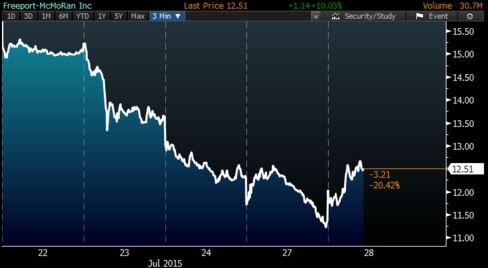 That should be supportive for copper prices, LaFemina said. "For the copper market in general, it stops the bleeding to some extent, at least."
Shares of Freeport closed up 8.4 percent at $12.33 in New York.
Freeport's stock had tumbled and bond yields soared after last week's release of second-quarter earnings. Asked how the company planned to respond to dismal market conditions, Chief Executive Officer Richard Adkerson told investors in a July 23 conference call that "all options are on the table." After the call, analysts including Jeremy Sussman at Clarksons Platou Securities in New York expressed concern about the lack of a more specific plan.
Short Covering
While news of the review probably helped the stock, a broader short-covering rally among leveraged miners likely had more impact, according to Rick de Los Reyes, a portfolio manager at T. Rowe Price Group Inc. Since details of the review won't be revealed until the third quarter, investors don't know much more than they did a week ago, he said.
"They're still going to have to assure the market that they're going to be able to make it through the short term from a cash-flow perspective," he said in a telephone interview.
(A previous version of the story corrected the day of the rally.)
Before it's here, it's on the Bloomberg Terminal.
LEARN MORE