Monsoon Defies El Nino Forecasts Answering Prayers of Indian Farmers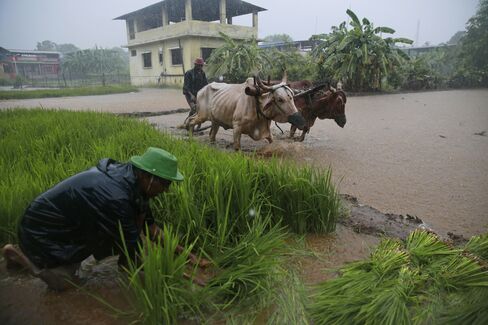 Indian rice farmer Bhabani Shankar Panda credits the rain gods for proving weather forecasters wrong this year.
His prayers for plentiful showers have been answered, defying official forecasts for El Nino to cause the first back-to-back shortfall in the monsoon in three decades. While wet weather early in the season meant farmers increased crop sowing, prospects dimmed as rainfall tapered off earlier this month.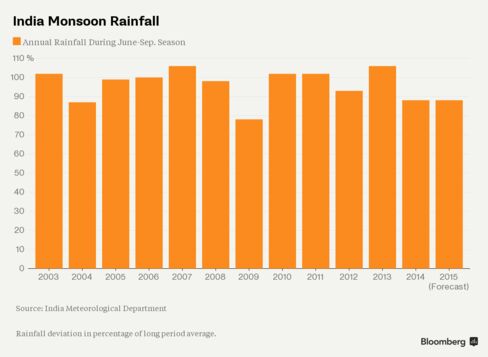 "Thank God, we do not have to worry about water this year," said 45 year-old Panda from Sambalpur in India's Odisha state, who grows paddy in his 20-acre farm. "I enjoy looking at my lush green field now."
The monsoon's revival from mid-July has boosted rice and soybean crops, curbing food price gains and easing concerns of shortages. India's central bank has said it's closely watching the rains after identifying a monsoon shortfall as the biggest risk to the economy, where agriculture accounts for about 15 percent of gross domestic product. The country depends on rain to water half of its crop land.
"The nation is heaving a collective sigh of relief as the performance of monsoon is better than what was forecast," said Soumyajit Niyogi, an interest-rate strategist at SBI DFHI Ltd. in Mumbai. "Better agriculture output will provide much needed room for the central bank to further cut rates."
Ocean Warming
Lower interest rates may support Prime Minister Narendra Modi's efforts to accelerate economic growth in Asia's third-largest economy. Central bank Governor Raghuram Rajan, who cut borrowing costs three times this year, has said further action hinges on the monsoon.
Halfway through the four-month rainy season that began in June, the first El Nino since 2010 has failed to make much of a dent. Unusual warming of the Indian Ocean may have helped counter the impact of El Nino on monsoon and aided better rain, according to Commodity Weather Group LLC. The India Meteorological Department last month predicted monsoon rain would fall short, reaching 88 percent of a 50-year average.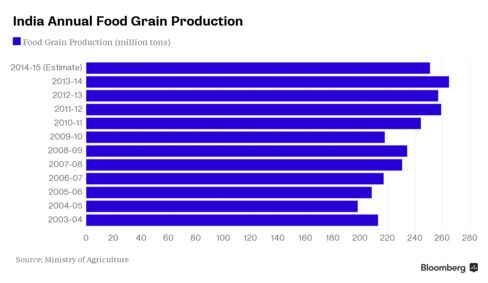 This year's El Nino is building strength unabated, indicating it will continue into next year, Australia's Bureau of Meteorology said July 21. El Ninos can disrupt harvests around the globe by baking parts of Asia, dumping rain across South America and bringing cooler summers to North America.
Bumper Harvests
Showers through July 29 are just 3 percent below normal and 78 percent of India has received excess or normal rain, according to the department. That's increased chances of bigger harvests of oilseeds and lentils, Modi said in a radio address July 26. Monsoon crops account for about 50 percent of the nation's total food grain production.
The area under crops from rice to corn and soybeans jumped 26 percent to 69.4 million hectares (171.5 million acres) as of July 24 from a year earlier, Agriculture Ministry data show.
Bumper production also spells good news for companies from smart-phone makers to jewelry retailers, which depend on rural India for the bulk of their sales. Panda, the farmer, hopes to harvest as much as 35 metric tons of rice this year and plans to buy more land and drill a bore well to expand his water source.
India's food grain output including rice and wheat fell 5.3 percent to 251.1 million tons in 2014-15, when monsoon rainfall was 12 percent below average, according to the Agriculture Ministry.
Before it's here, it's on the Bloomberg Terminal.
LEARN MORE