Einhorn Punished by Gold as Greenlight Re Drops 16% in 2015
David Einhorn is being punished for making the wrong call in the gold market.
The main hedge fund at his Greenlight Capital has slumped this year, and the reinsurer that counts on Einhorn's investing approach has dropped 16 percent in 2015 through Monday, dragged down by his bet on the metal.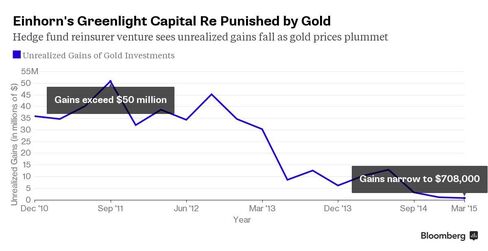 Gold has declined about 7.5 percent since Dec. 31 and is heading for a third straight annual fall, defying Einhorn's predictions. For years, he has stuck with his view that central banks' stimulus efforts would stoke inflation and push up the metal's value.
"Monetary policy and regulations have combined like a failed chemistry experiment to create a potentially destructive force that should not exist outside of fiction," Einhorn, 46, said in April at Grant's Interest Rate Conference in New York. "This adds to the ultimate attraction of holding gold instead of green."
The commodities position, which is comprised of gold bullion, accounted for almost 10 percent of the investment portfolio at Greenlight Capital Re Ltd. as of March 31, according to a regulatory filing from the publicly traded reinsurer. Gold was one of the Greenlight hedge fund's top six disclosed long bets at the end of June, according to an investor letter that didn't provide specific values.
The main Greenlight hedge fund lost 3.3 percent in the first half of 2015, compared with the 1.2 percent return in the Standard & Poor's 500 Index. Last year, his hedge fund's 8 percent gain trailed a 14 percent rise in the S&P 500, including reinvested dividends.
Gains Erased
Greenlight Re slipped 0.9 percent to $27.31 at 10:26 a.m. in New York, similar to prices the reinsurer was trading for in early 2011. The Cayman Islands-based company gives retail and institutional investors a chance to bet on Einhorn's hedge fund strategies and also files quarterly reports with regulators that give a window into his results.
The reinsurer's unrealized gains from commodities plunged to $708,000 as of March 31, according to a regulatory filing. That compares with about $50 million at the end of the third quarter of 2011, when gold was trading for more than $1,600 an ounce. Representatives of the hedge fund and reinsurer declined to comment.
Negative Return
The reinsurer is scheduled to report second-quarter results on Aug. 3, and has already disclosed an investment return of negative 1.5 percent for the three months. Brian Meredith, an analyst at UBS Group AG, estimates that the company will post a an operating loss of 59 cents a share for the period.
"The reason for that is the weak investment performance," he said by phone.
Gold prices have collapsed as investors anticipate that U.S. interest rates will climb this year, making bullion less attractive because it doesn't pay interest. Jeffrey Currie, the head of commodities research at Goldman Sachs Group Inc., has said prices could fall below $1,000 an ounce for the first time since 2009. Spot gold traded for $1,095.34 an ounce.
Einhorn has also endured drops this year with some of the hedge fund's other top investments. Consol Energy Inc. declined 36 percent in the first half of this year and Micron Technology Inc. lost 46 percent.
'Currently Complacent'
The recent slump stands out because of Einhorn's historic returns. Greenlight's main hedge fund gained an average of 19 percent per year from its inception in May 1996 through the end of last year. He is known for betting against Lehman Brothers Holdings Inc. before the bank's collapse in 2008.
Einhorn told investors in January that he was giving up his aim of earning 20 percent per year, to account for lower interest rates and the record prices of stocks, according to people with knowledge of the matter.
He isn't the only billionaire money manager pressured by a decline in gold prices. John Paulson, the head of Paulson & Co., has wagered on the metal in recent years, including holdings of mining companies.
Einhorn said in 2009 that he bet on gold to guard against U.S. currency devaluation amid a "historically atrocious economic downturn." Since then, Einhorn has likened central bankers' stimulus programs to eating too many jelly doughnuts, a habit that can be harmful to long-term health.
"Investors are currently complacent about the unintended consequences of central bank money printing," Einhorn said in his 2013 first-quarter letter. "Under the circumstances, it is curious that gold isn't doing better."
Read this next:
Before it's here, it's on the Bloomberg Terminal.
LEARN MORE