Bank of Russia Policies Collide as Ruble Plunge Curbs Easing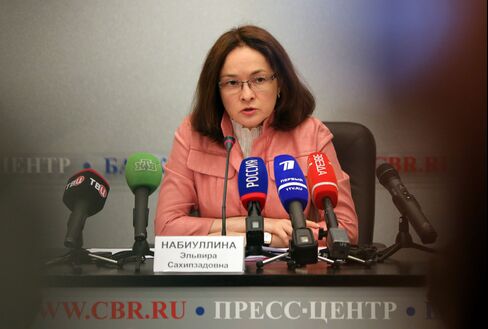 For two months the Bank of Russia balanced goals described as confusing to investors and incompatible with its free float. The ruble's plunge and a policy meeting in three days may force it to change tack.
The central bank may opt to cut its key interest rate by a quarter or a half point while suspending daily foreign-exchange purchases to rebuild reserves, according to Credit Suisse Group AG. Policy makers may halt the interventions with the ruble at 60 versus the dollar and pause their easing cycle if it weakens past 65, said Vladimir Miklashevsky, a strategist at Danske Bank A/S in Helsinki.
With an economic slump in full swing, the policy contradictions are rumbling to the surface after the ruble fell to its weakest level since March and forward-rate agreements showed traders trimming bets for monetary easing to the lowest this year. The central bank has purchased about $10 billion in foreign currency since announcing plans in mid-May to buy as much as $200 million daily to rebuild reserves.
"The gains from a rate cut are completely outweighed by the potentially negative consequences in terms of currency weakness with subsequent inflation issues," said Peter Kinsella, a senior currency strategist at Commerzbank AG in London. "The Russian central bank wants a stable rather than an excessively weak or excessively strong ruble. So if we see signs of excessive weakness again, we can be sure that the central bank will alter its stance" on interventions.
Free Float
The Bank of Russia, which moved to a free-float regime ahead of schedule last November amid a currency crisis, has faced questions over its plans to boost reserves and how that meshes with its policy of allowing market conditions to set the ruble's exchange rate. Purchases can be halted depending on the market situation, Bank of Russia First Deputy Governor Ksenia Yudaeva said last month.
The ruble fell 0.7 percent to 60.0680 versus the dollar at 7:37 p.m. in Moscow after earlier touching 60.471. It's the world's worst performer globally since May 13, when the interventions began.
"In the case that the pace of ruble depreciation continues in the near term, the central bank may step in to contain the scale of depreciation," Deutsche Bank AG analysts Yaroslav Lissovolik and Artem Zaigrin said in a research note. "Should the monetary authorities opt for a pause in further dollar buying, the market's bearish appetites may be curtailed."
'Quite Determined'
Instead of opting for a smaller rate cut, policy makers may prefer to maintain higher borrowing costs without abandoning currency interventions, according to Barclays Plc.
"The Russian central bank appears quite determined to keep its FX purchase program in place and would probably prefer to keep interest rates higher than to forego the daily purchases," said Daniel Hewitt, a London-based economist at Barclays.
The central bank will cut their key rate by a half point to 11 percent at their July 31 meeting, according to the median of 34 estimates in a Bloomberg survey. It's already lowered the benchmark by a cumulative 5.5 percentage points this year following an emergency increase in December.
Forward-rate agreements are signaling 13 basis points of decreases in the next three months. Ruble-denominated government bonds, known as OFZs, declined for a seventh day, with the yield on five-year securities rising 10 basis points to 11.18 percent.
'Difficult Situation'
"It would be good if they ended the interventions, which would support the ruble," said Olga Sterina, an analyst at UralSib Capital in Moscow, adding a weaker ruble may force the central bank to hold the key rate. "It's clear that a strong ruble won't benefit the budget, but a weak ruble will fan inflation. The central bank is looking at a difficult situation."
A weaker currency is no obstacle for a half-point cut, "at least for now," according to Oleg Kouzmin, a former central bank adviser who's now an economist at Renaissance Capital in Moscow.
"We do not expect that the recent episode of currency weakness should booster price growth considerably," he said in an e-mailed note. "Growth performance and restrictive budget policy provide grounds for a moderate rate cut."
Before it's here, it's on the Bloomberg Terminal.
LEARN MORE