U.S. Upgrades Malaysia, Cuba in Human Trafficking Report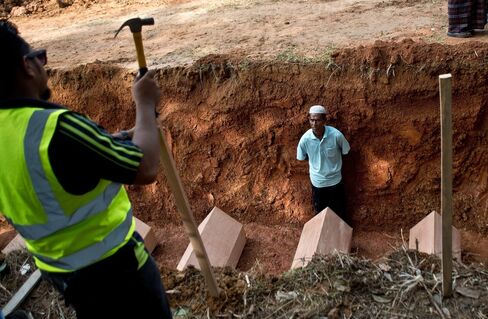 The U.S. State Department gave Malaysia, Cuba and Saudi Arabia upgrades from the lowest tier in its annual report on modern slavery, raising debate about whether the rankings are swayed by political considerations.
Malaysia's participation in the Trans-Pacific Partnership, a trade deal that's an Obama administration priority, was contingent on an improved ranking. Last week, the U.S. and Cuba opened embassies in each other's countries as part of a normalization of relations after a decades-long freeze.
Saudi Arabia was upgraded as the U.S. attempts to reassure the Mideast ally after its nuclear deal with rival Iran. All three countries were moved from Tier Three to Tier Two on the U.S. list of offenders because of their efforts to improve, according to the annual report on human trafficking.
Being on the "Tier Two watch list doesn't mean there aren't problems with a country," Sarah Sewall, undersecretary of state for civilian security, democracy and human rights, said as she presented the report at a news briefing on Monday in Washington.
The annual report examines 188 governments for their performance in the previous year in fighting exploitation, whether for sex, domestic labor, or work -- from construction and fishing to farming and mining. The State Department estimates that about 20 million children, women and men around the world are affected.
Countries that remained at the lowest level this year included Iran as well as North Korea, Syria and Russia.
Trade Ties
For years, Malaysia has been cited in the report for forced labor in factories and fields, domestic servitude, child sex trafficking and debt bondage, in which workers are never able pay debts incurred when they contracted with traffickers to find them jobs.
A Senate amendment to a law giving President Barack Obama expanded authority to negotiate trade deals banned countries with a Tier Three ranking from becoming part of the Trans-Pacific Partnership, an integral part of the administration's effort to "rebalance" its policy toward Asia.
Malaysia is part of the planned trade pact. Military-run Thailand, which isn't part of the trade negotiations, has a similar trafficking track record and was downgraded to Tier Three in 2014. It wasn't upgraded.
Senator Robert Menendez, a New Jersey Democrat, and 18 Senate colleagues, wrote Secretary of State John Kerry this month opposing an upgrade.
'Blind Eye'
"The administration has turned its back on the victims of trafficking, turned a blind eye to the facts, and ignored the calls from Congress, leading human rights advocates, and Malaysian government officials to preserve the integrity of this important report," Menendez said in an e-mailed statement Monday. "They have elevated politics over the most basic principles of human rights."
Sarah Margon, director of the Washington office of Human Rights Watch, said Malaysia's record "over the past year is far from sufficient to justify this upgrade, which is also a real blow to the credibility" of the annual report.
In the report, the State Department said "Malaysia does not fully comply with the minimum standards for the elimination of trafficking; however, it is making significant efforts to do so."
In May, Malaysian police found 28 human-trafficking camps near the country's northern border with Thailand, as well as 139 suspected graves containing an unknown number of bodies. Thailand found similar camps and graves on its side of the border and has arrested dozens of people suspected of involvement in trafficking.
'Hidden Agenda'
Thailand's Ministry of Foreign Affairs said in a statement the country's placement on Tier Three "does not accurately reflect the significant efforts undertaken" over the past year. Government spokesman Sansern Kaewkamnerd told reporters the U.S. needed to explain how it collects data for the report and what criteria are used in order to make sure it is based on facts and doesn't have a hidden agenda.
The U.S. Embassy in Bangkok said in a statement that the report covered the period from April 1, 2014, through March 31, 2015. That would not have have included either Thailand or Malaysia's crackdown on trafficking camps.
Cuba's improvement after years at Tier Three was a result of its efforts to combat sex trafficking and sex tourism, Sewall said, though she said concerns remain about the use of forced labor on the island.
Saudi Mistreatment
Saudi Arabia has been criticized by human-rights advocates for abuse of domestic workers, forced labor, its citizens' participation in sex tourism abroad and more recent sexual exploitation of Syrian refugees.
The State Department report notes continued mistreatment of domestic workers, many of whom are forced into prostitution and work far longer hours than their contracts state, and it said that "the Saudi government did not report efforts to address child sex tourism by Saudi nationals abroad."
The State Department explained the upgrade by saying that "the government of Saudi Arabia does not fully comply with the minimum standards for the elimination of trafficking; however, it is making significant efforts to do so."
Once the new report is filed, Obama has 90 days to decide whether to level sanctions against Tier Three governments that would block aid and pull U.S. backing for loans from organizations such as the International Monetary Fund and the World Bank.
Kerry skirted controversy over the report by appearing after the news conference on it solely to congratulate human-rights advocates being recognized for their work to reduce trafficking.
Kerry, who took no questions, said "the purpose of this document is not to scold; it's not to name and shame. It is to enlighten and energize and most importantly to empower people" to combat what he called the "$150 billion illicit trafficking industry."
Before it's here, it's on the Bloomberg Terminal.
LEARN MORE