U.S. Joins Turkey to Seek Syria Safe Zone Free of Islamic State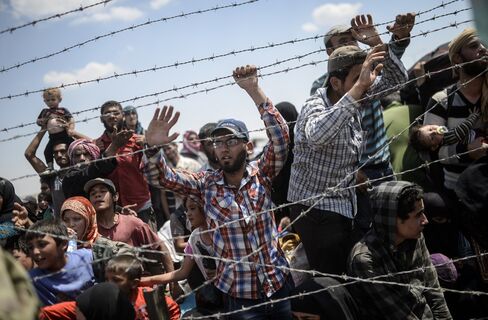 Turkish and U.S. military forces are planning to create a safe zone about 60 miles long on the Turkish border with Syria by expelling Islamic State from the area, according to a U.S. defense official.
One objective of the effort supporting moderate Syrian rebels would be to prevent Islamic State from importing recruits from Western Europe and elsewhere and exporting trained terrorists across that 97-kilometer stretch of the border, said the official, who requested anonymity to discuss ongoing military and political deliberations.
The promise to create a safe zone, a major expansion of efforts by the U.S. and Turkey, carries risks unless there's a commitment to back it up with military action as needed, Kenneth Roth, executive director of Human Rights Watch, warned in a tweet. He cited the failure of United Nations peacekeepers in Bosnia 20 years ago.
"Beware of forcing Syrian refugees into a 'safe zone' that isn't safe," he wrote, invoking the 1995 massacre of more than 8,000 Bosnian Muslims. "Remember Srebrenica."
Turkey increased its intervention in Syria last week by bombing Islamic State targets in response to a suicide attack that killed 32 people in a Turkish border town. The North Atlantic Treaty Organization is scheduled to hold an emergency meeting in Brussels on Tuesday at Turkey's request under the alliance provision known as Article 4 that calls for consultations when a member state is threatened.
The U.S. and Turkey have discussed joint measures to create a safe zone for more than a year, though President Barack Obama had been reluctant to commit to a plan that would draw the U.S. more deeply into the conflict in Syria.
'Common Ground'
Talks with the U.S. have reached "common ground" on the need for a safe zone inside Syria, to be controlled by "moderate" Syrian opposition groups and defended by air power, Turkish Prime Minister Ahmet Davutoglu said on local TV.
The operational details remain under discussion, he said. The plan would provide areas where the opposition could train and operate without threat from Islamic State, and it also would increase security along Turkey's border, he said.
The U.S. has resisted Turkish pressure to create a no-fly zone to protect civilians and reduce the refugee flow into Turkey. While leading airstrikes against Islamic State positions in Syria, the Obama administration has eschewed military confrontations with Syrian President Bashar al-Assad's forces even as it calls for him to step down.
"There's no imposition of a no-fly zone, and we're not considering one," State Department spokesman John Kirby said Monday in Washington.
But the plan as being discussed may amount to a de facto air-exclusion zone that bars Syrian warplanes and the helicopters it uses to drop barrel bombs and chlorine weapons on civilians, as well as rebel fighters.
Using Air Bases
U.S.-Turkish talks have dragged on for months over the related issues of creating a safe zone and Turkish authorization to use air bases for fighter jets targeting Islamic State. Retired Army General John Allen, the U.S. leader of the coalition fighting Islamic State, said last week that he held a dozen rounds of talks with Turkish officials in the past year.
Turkey agreed last week to the long-pending U.S. request to launch American fighter jets from the airbase at Incirlik, in southern Turkey, which in some cases would reduce flight times to minutes rather than the hours required from bases in the Persian Gulf. That would enable pilots to remain longer over Syria hunting for targets.
Protecting 'Moderates'
While explicitly directed against the Islamic extremists, the safe-zone effort may resolve one question that's hung over the U.S. training of Syrian fighters deemed to be "moderate" - - how to protect them from Syrian government air attacks after they return to Syria. Critics of Obama's approach have questioned the wisdom of training the Syrians, only to leave then vulnerable to Syrian air attacks.
The planning is still under way, the U.S. official wrote in an e-mail, but as it now stands it would call for American air support from two bases in Turkey and closer cooperation on the ground to clear Islamic State from an area 20 to 25 miles inside Syria, roughly from the eastern outskirts of Aleppo to the Euphrates River.
While Turkish officials continue to consider Assad the main enemy, the official said, their focus has changed somewhat since Islamic State launched an attack inside their country last week.
However, the official said, questions remain about the role -- if any -- of Kurdish forces in the effort. While the Kurds have been the most effective force fighting the Islamic militants, in part because the U.S. has trained only 60 Syrian opposition fighters, the Turks continue to oppose including them in the effort to clear extremist fighters from their strongholds on or near the Turkish border.
Coordinating Attacks
Because some of the areas controlled by Islamic State are densely populated, cross-border artillery and air attacks may be of limited value without spotters forward-deployed in the combat zone, the official said. Turkish troops as well as U.S. special operations forces might be able to coordinate both American and Turkish air attacks, although that hasn't been determined, the official said.
The use of U.S. tactical air controllers or artillery spotters in combat areas, though, would be a major escalation of American involvement in the war in Syria, which the White House has long sought to avoid.
PKK Rebels
Turkish warplanes have struck the Kurdish PKK rebel group, which both Turkey and the U.S. consider terrorists, in northern Iraq and Islamic State fighters in Syria in four waves of attacks since July 24. The operations started after extremists linked to Islamic State killed 32 people in southeast Turkey, triggering reprisals by Kurdish rebels who accuse the government of turning a blind eye to the group's attacks.
Turkey considers both the PKK and Islamic State threats, Davutoglu said in Istanbul July 25, Hurriyet newspaper reported. Security forces have detained at least 851 people across Turkey on grounds that they were members of terrorist organizations, including the PKK and Islamic State, the state-run Anadolu Agency reported on Sunday.
Kirby, the State Department spokesman, said that while "there's no connection between what they did against the PKK" and the new moves toward cooperation over Syria, "we recognize the right of Turkey to defend itself against terrorists."
Recent violent clashes with Islamic State fighters have sent investors fleeing from Turkey's financial markets. The benchmark Borsa Istanbul 100 Index slid on July 23 by the most since June 8, and dropped 4.9 percent last week.
For more, read this QuickTake: Syria's Civil War
Before it's here, it's on the Bloomberg Terminal.
LEARN MORE