Teva's Allergan Bid May Give Vigodman Exit From Mylan Feud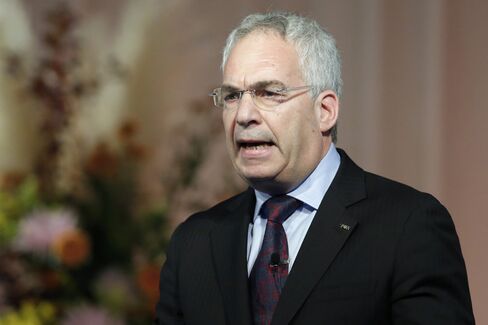 Buying Allergan Plc's generic-drug business would give Teva Pharmaceutical Industries Ltd. Chief Executive Officer Erez Vigodman a graceful exit from his four-month long pursuit of rival Mylan NV -- just as that takeover's prospects become dimmest.
Teva is likely to announce as early as Monday that it will buy the Allergan unit for about $40.5 billion, people familiar with the matter said. Teva's shares were suspended from trading in Tel Aviv on Monday pending a "significant" announcement. The Israeli drugmaker will also withdraw its $40.1 billion hostile offer to acquire Mylan, the people said, asking not to be identified because the information is confidential.
The Allergan deal would bolster Teva's position as the world's largest maker of generic drugs while extricating it from an increasingly vitriolic situation with Mylan -- a war of words described by Vigodman as "mudslinging." Teva also has a lower chance of paying too much if it chooses Allergan over Mylan, said John Park, co-portfolio manager at Jackson Park Capital LLC's Oakseed Opportunity Fund.
"The Allergan deal would be much better than pursuing a hostile with Mylan," said Park, whose fund owns Teva shares. "There's usually more overpayment risk when trying to do a hostile."
A spokeswoman for Teva, based in Petach Tikva, Israel, wasn't immediately available to comment on Sunday, during a public holiday in Israel. Representatives for Allergan and Mylan declined to comment.
Teva has encountered hurdle after hurdle in its bid to gain support from Mylan investors -- and a big one arose last week. An independent Dutch foundation, set up to protect Mylan from external threats, acquired control of half of the company by exercising an option, creating a giant roadblock against a deal.
Public Rebuke
That was just the latest setback. Even before Teva had announced its offer in April, Mylan had taken the unusual step of publicly rebuking its rival. Once the proposal was official, Mylan Chairman Robert Coury wrote in a letter to Vigodman that Teva's bid was "not even close to qualifying as a proposal worth pursuing." A Teva deal would expose his company to a "dysfunctional culture" and "troubled company," as well as significant antitrust concerns, he said.
Mylan instead continued to pursue its unsolicited -- and thus far, unsuccessful -- bid to buy Perrigo Co., a maker of over-the-counter drugs.
Undaunted, Teva accumulated 4.6 percent of Mylan shares ahead of a potential legal battle in Dutch courts. Canonsburg, Pennsylvania-based Mylan had relocated to the Netherlands last year for tax purposes, and in April set up a legal structure known as a stichting that can discourage an unwanted takeover offer by acquiring newly issued shares.
Once the stichting decided to act last week, Teva's pursuit of a takeover looked even bleaker.
'Elegant Solution'
Switching its focus to Allergan now offers Teva an "elegant solution," said Ronny Gal, an analyst at Sanford C. Bernstein & Co. Much like the Mylan deal, buying Allergan's generic unit would allow Teva to grow without a battle that could take many months to resolve.
Allergan's generic-drug and distribution businesses make up about a third of the company's total revenue, and had sales of $8.43 billion last year -- compared with Mylan's $6.52 billion in generic sales.
An Allergan deal comes with some other perks. In the potentially lucrative space of generic biologic drugs, known as biosimilars, Teva may get the partnership Allergan has with Amgen Inc. in cancer biologics. The deal also gets Teva out of acquiring Mylan's Epipen treatment for allergic reactions, which is likely to face generic competition in coming years even from its own products.
'Smart Move'
Teva also has an advantage with the Allergan deal in that its head of generics, Siggi Olafsson, was previously at Actavis Plc -- the company that's now called Allergan. That may make it easier for him to integrate the businesses.
"For Allergan, this is a smart move: generics is not a good business to be in as there will be continued pricing pressure," said Ori Hershkovitz, founding partner and chief investment officer at Nexthera Capital, a New York-based hedge fund. "For Teva, the leverage in scale and the synergies they'd get is the best way to deal with this new situation."
Before it's here, it's on the Bloomberg Terminal.
LEARN MORE