Over the weekend, Danish chef Rene Redzepi of Noma posted a major announcement to the restaurant's website: He and his team of more than 40 cooks, servers, and dishwashers will be setting up their restaurant in Barangaroo, a suburb of Sydney, for 10 weeks beginning in January 2016.
Earlier this year, Redzepi experimented with the long-term pop-up structure in Tokyo, where he ran Noma on the 37th floor of the Mandarin Oriental for five weeks. The meal was astonishing, beginning with an unforgettable wriggling shrimp covered in ants from the Nagano forest, and the wait list for dinner was reportedly 60,000 names long.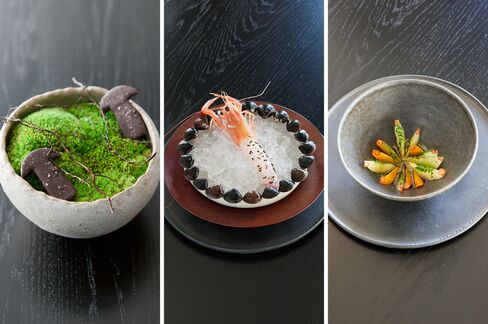 British chef Heston Blumenthal popped up in Australia earlier this year, too. His approach at Melbourne's Crown Towers was to faithfully re-create his Fat Duck menu, from the jelly of quail right down to the aerated beetroot.
In a video for Gourmet Traveller, Redzepi describes his first experiences in Australia, and explains how the temporary move is a chance for him and his team to learn about the landscape by experimenting with local ingredients. Just like in Tokyo, cooks will be scouring for tasty things that live and grow there—Redzepi's Instagram feed has already been a tease of green lip abalone, fat local mussels, and conch.
https://instagram.com/p/5b9veWjNET/
He writes: "From the tropical fruit in the north, to the native pepper leaf of Tasmania; the pristine fish and shellfish of the very south, and all the new exotic wonders in between. Our research forays will take us into the bush, around every shoreline, weeding our way through Flinders and Kangaroo Island. Somewhere along that course I may even get my first surfing lesson."
Dinner for two at Noma Tokyo cost about $1,350, and it's not clear whether Sydney tickets (which are not yet on sale) will be comparable. Meanwhile, you can sign up for more information here.
Before it's here, it's on the Bloomberg Terminal.
LEARN MORE