Aleynikov Prosecutor to Appeal Second Verdict Reversal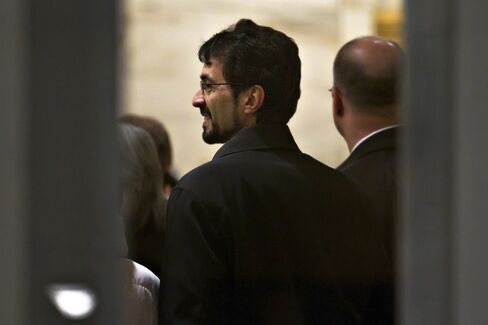 An ex-Goldman Sachs Group Inc. programmer who twice won reversal of guilty verdicts for taking the firm's high-frequency trading code when he left for another job isn't yet in the clear as prosecutors press an appeal.
Manhattan District Attorney Cyrus Vance Jr. will challenge the dismissal of charges against Sergey Aleynikov, whose saga helped inspire Michael Lewis's "Flash Boys," Joan Vollero, a spokeswoman for prosecutors, said Monday.
Aleynikov was convicted by a Manhattan jury in May of stealing Goldman's computer code. Earlier this month, a judge overturned the verdict after finding that state law didn't outlaw his conduct. A federal jury in 2010 found Aleynikov guilty of stealing intellectual property, only to have an appeals court toss that finding.
Aleynikov's lawyer, Kevin Marino, said in a statement that he's confident Justice Daniel Conviser's "sound, 72-page decision" on July 6 will be upheld on appeal. To pursue an appeal is "inexcusable" because there was no evidence at the trial that Aleynikov sought to acquire the "major portion" of the code's value, as the law requires, Marino said.
If prosecutors win their appeal, Aleynikov's state conviction would be reinstated, Marino said. Vance has said he's unlikely to seek additional jail time for Aleynikov, who spent a year behind bars in the federal case before the U.S. Court of Appeals in New York overturned the verdict.
Nine Months
Vance will have as long as nine months to submit legal papers to the appellate division in Manhattan after filing his notice of appeal.
Aleynikov was arrested by the FBI in July 2009 after stepping off a plane from Chicago, where he had taken a job with Teza Technologies LLC, the firm founded by former Citadel Investment Group LLC high-frequency trading chief Misha Malyshev.
Aleynikov didn't deny taking code. He said much of what he copied was open-source material he used as research for his new job. His lawyers argued during the trial that taking the code wasn't a crime and that any complaint should have been brought by Goldman Sachs in a civil lawsuit rather than by prosecutors in a criminal case.
A federal jury in New York convicted Aleynikov in 2010, and he was sentenced to eight years in prison. He served about a year before the first reversal. Six months later, Vance brought the state charges.
The case is the People v. Aleynikov, 0447/2012, New York State Supreme Court, New York County (Manhattan.)
(An earlier version corrected the possible outcome of the appeal.)
Before it's here, it's on the Bloomberg Terminal.
LEARN MORE