Israeli Police Enter Al-Aqsa Compound to Stop Stone-Throwers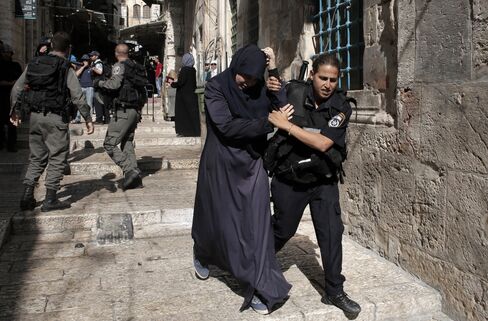 Israeli police said they entered the Al-Aqsa mosque compound Sunday to stop Palestinians hurling iron bars, rocks and firecrackers at security forces in what a spokeswoman said was part of a plan to attack Jewish worshipers.
Police entered the area that houses the mosque and stepped into the entrance of the shrine to stop the violence, spokeswoman Luba Samri said. Four policemen were injured and three Palestinians were arrested, she said. Arabic television networks said police stormed the compound, which Jews call the Temple Mount, and attacked Muslim worshipers inside the mosque.
Mohamed Elian, a spokesman for Palestinian Authority President Mahmoud Abbas's Fatah faction, said he called on Muslims to defend the compound against Jews planning to pray there. He expressed concern that Israel intends to increase restrictions on Palestinian worshipers at the site.
The incident was the worst violence in months at the contested hilltop. It coincided with the holiday of Tisha Ba'av, when Jews fast to mourn catastrophes including the destruction of the First Temple and Second Temple. Jews venerate the Temple Mount as the site of those temples.
Western Wall
The Western Wall, Judaism's holiest site, lies at the foot of the complex. Jews are not allowed to pray on the Temple Mount and worship at the Wall.
In an e-mailed statement, the Palestinian Ministry of Foreign Affairs condemned what it said was "a storming of the mosque" and called on Arab states to hold Israel responsible for "ongoing aggression" in Jerusalem, and urged the United Nations to take action. The Jordanian government also protested "the Israeli provocations," the state-run Petra news agency said.
In Israel, President Reuven Rivlin denounced those who started throwing stones from al-Aqsa on a Jewish holiday. "The acts of violence and terrorism committed especially today, against worshipers at holy sites, must be condemned unequivocally," he said, according to a text message from his office.
About 1,200 tourists and Israelis entered the compound for the limited number of hours allowed after the stoning was stopped, Samri said.
Before it's here, it's on the Bloomberg Terminal.
LEARN MORE