Deutsche Boerse Buys 360T to Expand in Currency Trading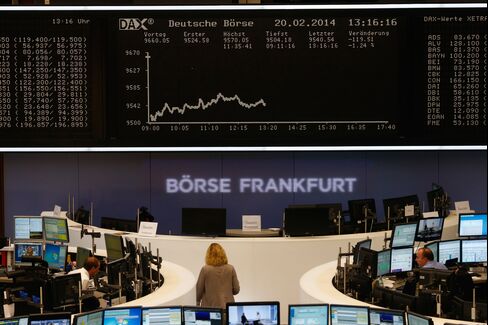 Deutsche Boerse AG will buy foreign-exchange trading platform 360T for 725 million euros ($796 million) to move into the $5.3 trillion-a-day currency trading market.
The agreement was signed by 360T shareholders including U.S. private equity firm Summit Partners, Deutsche Boerse said in a statement Sunday.
Exchanges are diversifying into other asset classes at a time when European stock-market operators have seen profits evaporate because of regulator-enforced competition. Bats Global Markets Inc., another international exchange operator, bought currency specialist Hotspot FX for $365 million in January.
"I understand the rationale for 360T -- the foreign-exchange markets are the largest and most liquid in the world," said Peter Lenardos, an analyst at RBC Capital Markets in London, though he added that he wanted more details on the deal structure.
The German company had been competing with CME Group Inc. and Nasdaq OMX Group Inc. for Frankfurt-based 360T, according to people familiar with the matter who asked not to be identified because the talks were private.
Currency trading businesses are also growing strongly. 360T had average daily volume of $70 billion in 2014, up from $62 billion the year before, according to an Aite Group report in May.
Kengeter's Ambitions
The acquisition is an early signal of intent by Deutsche Boerse Chief Executive Officer Carsten Kengeter, who joined the exchange operator this year after a previous stint as co-CEO of UBS Group AG's investment bank. The company's attempt to buy NYSE Euronext was blocked by European regulators in 2012.
"We're entering an asset class that we don't have in our portfolio and which we believe is promising," Frank Herkenhoff, a Deutsche Boerse spokesman, said by phone on Sunday.
The company will finance the purchase through debt and equity, "with the aim to minimize a potential impact on the credit rating." The transaction will "be immediately accretive to cash earnings per share" and "meet customary return-on-investment targets upon realization of the mid-term synergy targets," it said.
360T is overseen by German finance regulator BaFin. It's used by asset managers, companies and hedge funds and has more than 1,700 buyside clients such as mutual funds, according to its website.
Before it's here, it's on the Bloomberg Terminal.
LEARN MORE