U.S. Goes After African Elephant Slaughter With Ivory Ban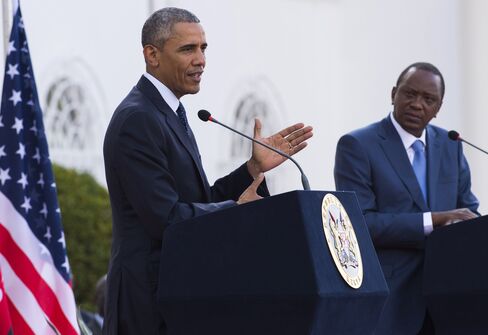 President Barack Obama said his administration will issue new regulations prohibiting almost all U.S. sales of African ivory in a bid to help protect elephants and other endangered species.
"I can announce that we're proposing a new rule that bans the sale of virtually all ivory across state lines," Obama said at a news conference Saturday in Nairobi, the capital of Kenya. Obama made the announcement in a joint appearance with Kenyan President Uhuru Kenyatta.
The proposal will prohibit interstate commerce in ivory, with the exception of specific and limited uses for musical instruments, furniture pieces and firearms that contain less than 200 grams of the white material, the U.S. Fish and Wildlife Service, part of the U.S. Department of the Interior, said in a statement.
"The United States is among the world's largest consumers of wildlife, both legal and illegal," Dan Ashe, director of the Fish and Wildlife Service, said in the statement following Obama's remarks. "We want to ensure our nation is not contributing to the scourge of poaching that is decimating elephant populations across Africa."
An estimated 100,000 elephants were killed for their ivory between 2010 and 2012, an average of approximately one every 15 minutes, according to the statement. The regulations also would further restrict commercial ivory exports, the agency said without providing details.
Illegal wildlife trade has become the world's fourth-largest international organized crime, according to a University of Washington study published in June. The wildlife trafficking market is worth an estimated $8 billion to $10 billion a year.
Obama's proposal was lauded by the Humane Society of the United States, an animal protection group.
"We've been calling for U.S. leadership to combat the illicit trade in ivory, and we are glad that the president is using the bully pulpit to draw attention to this crisis and to take a critical step toward strengthening U.S. policy," the non-profit organization said in a blog posting.
The proposed rule will be published on July 29 and open for public comment for 60 days.
Before it's here, it's on the Bloomberg Terminal.
LEARN MORE