Forget Shorts, Jeans Made With Jade Help Chinese Beat the Heat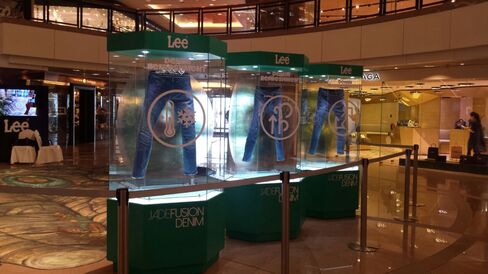 The Lee jeans brand has a solution for anyone who dreads wearing denim in the summer.
The company, a division of VF Corp., is weaving crushed jade stones into its jeans to keep wearers cooler. The Jade Fusion line, which debuted in Hong Kong in May and is now rolling out in the rest of China, sold out in its first seven weeks, said Stephen Dull, VF's vice president of strategy and innovation.
The jade fabric rapidly pulls sweat away from the body and quickly dries, creating a cooling sensation, Dull said. Lee is marking the pants with the tagline "denim refreshment."
"It's not magic," Dull said in an interview. "But it takes away of a lot of the smelly, icky, sweaty, sticky feeling you get when you wear denim in the heat."
The product is part of a five-year initiative by VF to study consumer needs and develop more innovative products. The company has spent tens of millions of dollars on the strategy, Chief Executive Officer Eric Wiseman said in an interview, and the new products are beginning to fuel sales.
The company estimates that jeanswear revenue will grow by a mid-single-digit percentage this year, excluding currency fluctuations. That's up from an earlier forecast for a low-single-digit increase.
Lee, a brand that dates back to 1889, also is trying to combat a shift to yoga pants and athleisure apparel -- gym clothes that can double as streetwear. To get people to wear denim again, the company has reworked the material in its pants. They now have more stretch and can wick sweat five times faster than traditional denim.
For now, the Jade product will be limited to China, Dull said. To promote the pants, the company set up 3-D visual illusions in public spaces that consumers can take photos with. In one, a jade road appears to lead into a "magical world" painted on the wall.
"Jade particles woven into the fabric not only works well, but it has a spiritual and emotional appeal to that customer," Dull said.
Before it's here, it's on the Bloomberg Terminal.
LEARN MORE