Capital One, Apollo Said to Mull Final Bids for GE Health Lender
Capital One Financial Corp. and Apollo Global Management are poised to make final bids for General Electric Co.'s health-care finance unit as the company shrinks lending operations, people with knowledge of the matter said.
Final offers are due next week for the GE Capital business, which could fetch more than $11 billion, said the people, who asked not to be identified because the details are private. At least one other suitor is expected to submit a proposal, the people said. GE is working with JPMorgan Chase & Co. on the sale and may select a buyer in August, they said.
GE is working to accelerate the divestiture of most of its finance arm and refocus on industrial operations that include making gas turbines and oilfield equipment. GE Capital Chief Executive Officer Keith Sherin said in an interview in June that he expects to sell more than $23 billion of assets this quarter.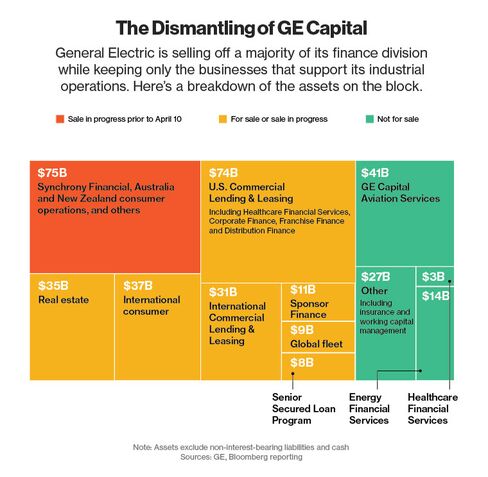 Since announcing the exit plan in April, GE has agreed to sell its U.S. and European buyout-lending businesses for a combined $14 billion and most of its vehicle fleet-management division for $6.9 billion. Fairfield, Connecticut-based GE is selling about $200 billion in assets with the pullback from GE Capital, which was once so large that it imperiled the parent company during the 2008 financial crisis.
Representatives for GE and JPMorgan declined to comment. Apollo and Capital One, a bank known for extensive credit-card operations, didn't immediately respond to requests for comment.
Final bids in another sale, for GE's railcar-finance division, are due by mid-August, the people said. Sherin listed that lessor and the health-care unit, which offers mortgages and business loans to nursing homes and other health-care providers, among GE's top remaining sale priorities.
The rail-equipment unit leases freight and tank cars and offers loans and maintenance services. GE has weighed selling it at least twice since 2008, and ended an auction in 2011 after concluding that the lessor was faring well as freight shipments recovered.
Before it's here, it's on the Bloomberg Terminal.
LEARN MORE