Bezos Adds More Than $7 Billion to Fortune as Amazon Surges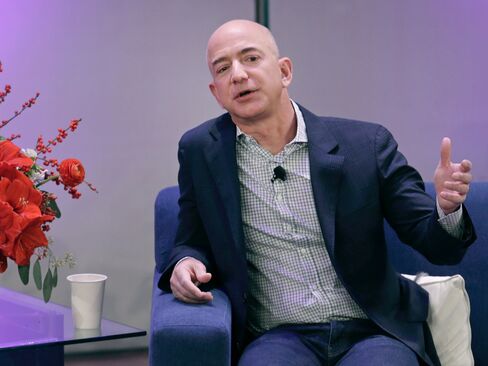 Jeff Bezos added more than $7 billion to his personal fortune this morning after shares of Amazon.com Inc. surged more than $75. The chairman and largest shareholder of the world's biggest Internet retailer lifted his wealth to $50.5 billion, according to the Bloomberg Billionaires Index.
The surprise $92 million profit from Amazon, reported after the close of regular trading on Thursday, heartened investors and sent Amazon to an all-time high of $564 a share as of 10 a.m. in New York.
Bezos, a former Wall Street computer engineer who founded Amazon in 1994, is set to become the world's fifth-richest person, overtaking brothers David and Charles Koch, who were each worth $50.1 billion at yesterday's close. Only 199 people have fortunes larger than what Bezos has gained this morning, according to data compiled by Bloomberg.
The 51-year old Seattle native's net worth has risen more than 75 percent this year. He began 2015 with $28.6 billion, which put him in 20th place on the Bloomberg Billionaires Index, an exclusive daily ranking of the world's richest people.
Before it's here, it's on the Bloomberg Terminal.
LEARN MORE