World-Beating Currency Found in Africa Seen as Loser in Long Run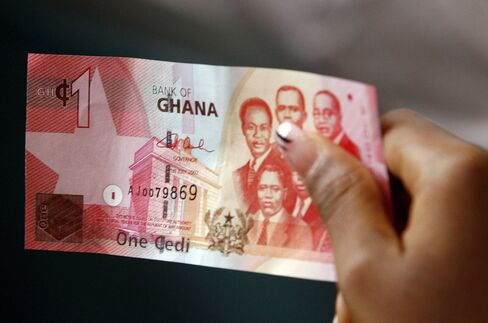 Beware the world's best-performing currency.
The Ghanaian cedi's 26 percent surge this month is based on misplaced optimism about the economy, according to both Morgan Stanley and Rand Merchant Bank, a unit of Africa's biggest lender. The median of five analyst forecasts compiled by Bloomberg suggests it will slide all the way back to a record low by the middle of next year, posting the biggest drop of any currency after Venezuela's bolivar on its way.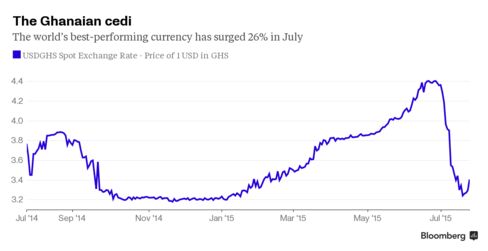 The cedi's fortunes hinge on the West African nation's ability to meet the terms of a bailout loan it took as demand for its oil and cocoa exports collapsed. When the International Monetary Fund said last month Ghana was sticking to the conditions of the rescue, the currency started climbing. Now, the government's own deficit figures suggest the Washington-based organization was too hasty in its assessment.
"I don't think this rapid appreciation will be sustained," said John Ashbourne, an Africa economist at London-based advisory firm Capital Economics Ltd., which forecasts a 20 percent decline in the cedi by year-end. "The big problems in the economy in terms of the current-account deficit, the budget deficit and inflation are still there."
Highs, Lows
Those shortcomings dragged the cedi to a 26 percent first-half slump that was the biggest after Belarusia's ruble among about 150 currencies tracked by Bloomberg.
The cedi reached an all-time low of 4.49 to the dollar on June 29. A day later, it started appreciating after the IMF said Ghana was on track to beat its targets for cutting the budget deficit, touching a five-month high earlier this week.
The rally turned around on Tuesday, when Ghana's finance minister raised his outlook for the 2015 budget shortfall to 7.3 percent of gross domestic product, from an initial estimate of 6.5 percent. On Friday, the cedi tumbled as much as 8.9 percent to 3.59 per dollar.
"The much-touted fiscal progress that earned a glowing report from the IMF last month and triggered the strong rally in the cedi was purely based on data for the first four months of the fiscal year," Michael Kafe, an economist at Morgan Stanley in London, said in a July 20 report. "We acknowledge the progress but believe that it's too early to declare victory."
Kafe sees the cedi falling to 4.25 per dollar by year-end. Bloomberg's strategist survey puts it at 4.3 on Dec. 31 and predicts a slide to 4.53 -- which would be the weakest level ever -- by the middle of 2016.
Foreign Earnings
Ghana President John Dramani Mahama secured the IMF loan of almost $1 billion in April as high spending, power cuts and falling prices for oil, gold and cocoa hurt growth. West Africa's biggest economy after Nigeria relies on these three commodities for about 80 percent of its foreign earnings. The government also cut its estimate for 2015 GDP expansion this week to 3.5 percent, from 3.9 percent previously.
Without a turnaround in the economy, Ghana's attempts to shore up its currency by spending foreign-exchange reserves aren't "sustainable," said Courage Kingsley Martey, an economist at Accra-based adviser Databank Group Ltd.
The central bank already burned through 8 percent of its holdings from January to May, data compiled by Bloomberg show.
The cedi's recent gains were due to "a reduction in speculative buying of dollars and pumping of foreign reserves into the market," said Martey, who predicts the currency will weaken to 3.9 per dollar by year-end. "I don't see it as a sustainable approach. We need to beef up the economy's ability to generate more foreign-exchange inflows."
Before it's here, it's on the Bloomberg Terminal.
LEARN MORE