S&P 500 Keeps Getting Stuffed at the Goal Line of a New Record High
The U.S. stock market can't close the deal.
Gone are days when equities powered to records with ease -- now, they're breeding anxiety. For two months the Standard & Poor's 500 Index has been stuck in a pattern of rising to the brink and then failing to break through, leaving investors without a fresh high for the longest stretch since 2013.
Weeks like this are becoming the norm in a market facing weakening earnings and the withdrawal of Federal Reserve stimulus. It's a shift from the previous three years, a period of almost unrelenting appreciation that rivaled the fastest advances since the 1990s technology bubble.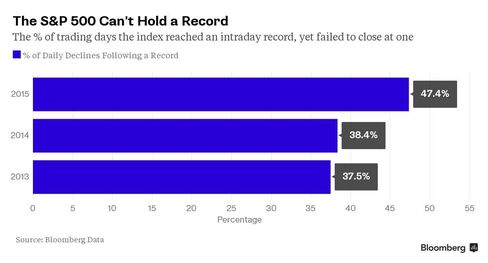 "In the past when the market has broken to a new high, it's just shot up from there," said Matt Maley, an equity strategist at Miller Tabak & Co. in Newton, Massachusetts. "The inability of the market to break out has made people a little gun-shy. They really want a catalyst to take us higher."
The frustration can be measured by counting days in which the S&P 500 got to record territory during intraday trading then failed to hold it through the close. That's happened nine times in 2015, or 47 percent of the time, compared with an average of 38 percent in 2013 and 2014.
The S&P 500's latest run at a record came Monday, in its first intraday foray past a closing high since May. The gauge ended the day 0.2 percent from its last all-time high, and slid 0.7 percent in the two subsequent sessions. It fell 0.6 percent to 2,102.16 at 4 p.m. in New York.
Stalling Out
The market's tendency to stall out before reaching highs has kept the S&P 500 trapped in a 90-point trading range since the beginning of February. The index hasn't gained or lost more than 3.5 percent year-to-date, the narrowest band in nine decades, according to data compiled by Bloomberg and Bespoke Investment Group LLC.
Debt negotiations in Greece and a rout in Chinese equities contributed to a retreat that sent the S&P 500 down 3.7 percent between June 23 and July 8. Other traders point to the end of the Fed's quantitative easing program last October as the underlying cause of the stasis.
"During the QE period, we were so used to reaching new highs, it was almost like a morphine drip for the patient," said Jordan Irving, co-founder of Conshohocken, Pennsylvania-based Irving Magee Investment Management, which oversees $230 million. "Now the Fed has made it clear that they want to get off of the zero-bound interest-rate policy and nobody knows what it means for the market."
Swelling Valuations
Valuations have also increased from levels during the bull market's peak years. At 18.6 times annual profit, the S&P 500 is trading 13 percent above its average price-earnings ratio in the last 10 years. Analysts expect income for companies in the index to drop in the second and third quarters, according to a Bloomberg survey.
Fewer companies are carrying gains. About 55 percent of stocks closed above their 200-day moving averages Tuesday, around the lowest percentage in eight months, according to data compiled by Bloomberg.
Traders aren't worried enough to hold on to near-term hedges. A measure of options costs on the S&P 500 shows anxiety over the stock market is around the lowest this year.
The Chicago Board Options Exchange Volatility Index closed at its lowest level of 2015 last week after a record five-day drop. It slid 0.8 percent to 12.12 Wednesday.
"We've seen a very saw-toothed upward pattern," said Robert Pavlik, who helps oversee $9.1 billion as chief market strategist at Boston Private Wealth. "People are suspect because they're not sure how much juice is left in the overall market. They're seeing a market that trades at what appears to be expensive and that's the pattern you get."
Before it's here, it's on the Bloomberg Terminal.
LEARN MORE