U.S.-Trained Iraqi Troops Joining Fight to Retake Ramadi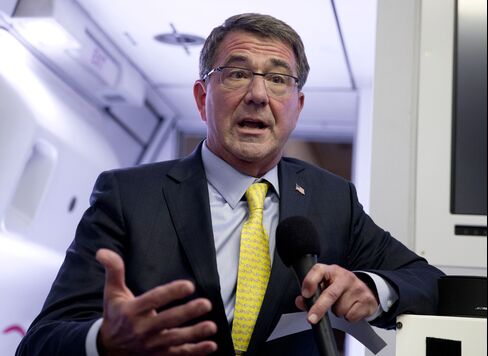 Iraqi forces are being bolstered in their efforts to recapture the key city of Ramadi from Islamic State by U.S.-trained troops, the Pentagon chief was told on Thursday.
Defense Secretary Ashton Carter, on his first visit to Iraq as Pentagon chief, was briefed on the impact of the U.S. training mission on a stalled Iraqi offensive to retake the city, which fell to jihadists in May.
About 3,000 Iraqi troops trained by the U.S.-led coalition, along with 500 Sunni tribal fighters, joined the effort to seal off Ramadi in recent days, Army Colonel Steve Warren, a Pentagon spokesman, told reporters traveling with Carter in Baghdad. It was the first time Iraqi soldiers trained by the U.S. had been used in an offensive operation against Islamic State.
"This is a development that we're very satisfied to hear," Warren said. After spending seven months training about 11,000 Iraqi personnel, "we're now beginning to see the results of those investments."
A year after Islamic State's declaration of a caliphate across parts of Iraq and Syria, the radical Sunni group has proven resilient when confronted by Iraqi ground forces and U.S.-led airstrikes. Recapturing Ramadi, the capital of Anbar province, has become a crucial test of the Iraqi army's ability to defeat Islamic State after Carter reacted in May to the city's fall by saying it showed the country's military was losing the "will to fight."
Met With Abadi
Carter met with Iraqi Prime Minister Haider al-Abadi and said the U.S. was "strongly supportive" of his efforts to build an inclusive government.
Defeating Islamic State requires "capable ground forces that we can enable and support and we will. And getting those forces, in turn, requires inclusive governance," he said.
The inclusion of Sunni tribal fighters in the new force is considered significant because of the need to reconcile a Shiite-led Iraqi government with alienated Sunni tribes.
The Obama administration is counting on training and advising Iraqi forces without putting U.S. troops back into ground combat. Deeply ingrained sectarian tensions and doubts about U.S. resolve have made that effort a heavy lift.
"The patient may be too far gone to save it at this point," Ali Khedery, who served as an adviser to five U.S. ambassadors and three heads of U.S. Central Command in Iraq, said in an interview last month.
Retaking Ramadi
Warren, the Pentagon spokesman, suggested Wednesday that control of Ramadi, at least, may be about to change. Iraqi forces may be ready to retake it from Islamic State "in a matter of weeks," he said.
While the precise timing of a Ramadi offensive would depend on conditions on the ground, Warren said, thousands of Iraqi troops are working "to isolate Ramadi from multiple directions" in an effort "to place a noose around the city."
An estimated 1,000 to 2,000 enemy fighters are in Ramadi, Warren said. "Iraqi security forces are in the process of encircling the city," he said. "They're very methodically, very deliberatively, advancing on the city."
The Iraqi government not only faces the challenge of incorporating Sunni tribal fighters in the battle for a Sunni-dominated city, but also whether it will avoid depending on Shiite militias, some of whom are backed by Iran.
"The government of Iraq has indicated that they have no intention of using the Shia militia forces as part of the liberation of Ramadi," Warren said.
Urgency Emphasized
On a week-long swing through the Middle East, Carter has stressed the urgency of the effort to defeat Islamic State.
"It's the most important thing we're doing," Carter told troops at an air base in Jordan, from which airstrikes are conducted on Iraqi and Syrian targets. "This enemy has to be defeated."
While the U.S. combat role has mostly been limited to the air campaign, Carter told troops the effort is weakening the enemy.
The overhead presence of U.S. and allied fighters "intimidates the enemy into operating less effectively" and "heartens ground forces" combating Islamic State, he said.
The U.S. has trained about 7,000 soldiers, 2,000 Kurdish Peshmerga forces and 2,000 counter-terrorism operatives, Warren said.
The U.S. has about 3,550 military personnel in Iraq to help train and advise local forces, though the Americans remain barred from engaging in combat or accompanying local forces to serve as forward spotters who could better identify targets for airstrikes.
Some Republicans, led by Senator John McCain, chairman of the Senate Armed Services Committee, have urged the administration to put spotters on the ground and take a more aggressive posture.
"It remains on the table," Warren said of that option, though no such decisions have been made.
For more, read this QuickTake: The Third Iraq War
Before it's here, it's on the Bloomberg Terminal.
LEARN MORE