ETF Watch
Is This the Beginning of the End for Dividend ETFs?
So far this year, it's all outflows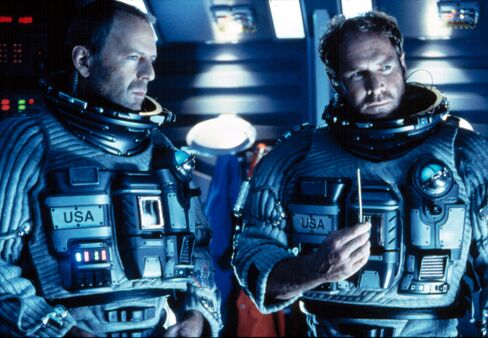 Dividend ETFs are on fire, and not in a good way.
Exchange-traded funds that employ a variety of strategies to invest in dividend-paying stocks have been a no-brainer since the financial crisis, as income investors have confronted artificially low interest rates. But after years of inflows that swelled assets to $100 billion, dividend ETFs have seen an outflow of $2 billion this year.1 If that isn't quite apocalyptic, it is scary, and if it keeps up, this will be the first year of outflows ever.
The outflows aren't from just one ETF or the result of one massive trade. It's a slow and steady burn from most of the largest and most beloved dividend ETFs.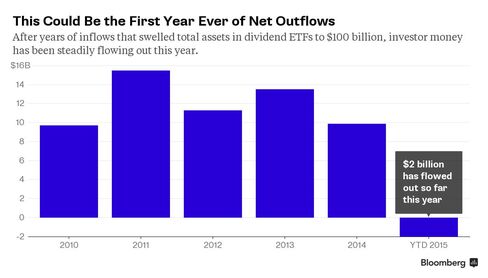 Take the king of the hill, the $20 billion Vanguard Dividend Appreciation ETF (VIG). VIG screens for companies that have raised dividends for 10 consecutive years, then weights the stocks by their market capitalization. Until this year, it had seen only money inflows since it was launched in 2006. But so far in 2015, $800 million has left the fund, and VIG is on pace for its sixth straight month of outflows.
Some argue it's a shift in investor focus. ETF investors are leaving the U.S. equity market, the reasoning goes, to surf central bank liquidity waves in Europe and Japan, which have sent those regions' stocks soaring. While international ETFs have taken in $88 billion this year, they may not attract the same income-seeking crowd that buys dividend ETFs.
The expectation of higher rates is likely playing a bigger role in the outflows. Interest rates have been climbing steadily since the end of January. While the chattering class debates whether the Fed will raise rates this year, the yield on 10-year Treasury notes has gone from 1.6 percent to 2.3 percent. This makes VIG's 2.1 percent yield, which is barely above the S&P 500's 1.9 percent yield, a lot less attractive in comparison.
The other reason investors may be souring on VIG is its underperformance against the broad market. VIG is flat this year, while the S&P 500 is up 4.5 percent. That's not exactly new, though. VIG tends to underperform the market because it doesn't invest in Apple. Apple is up 13 percent this year and is nowhere near meeting VIG's criteria for inclusion, since it has paid a dividend for only two years.
Other behemoths, such as the $13 billion SPDR S&P Dividend ETF (SDY) and both of iShares' big dividend products, are seeing outflows as well. Money has shifted out of SDY in five of six months this year. Its dividend screen is even stricter than VIG's; it looks for companies that have increased dividends for at least 20 consecutive years. It yields 2.3 percent and has a slightly negative return for the year.
For the $13 billion iShares Select Dividend ETF (DVY), it's also been five straight months of waving goodbye to cash. The $5 billion iShares Core High Dividend (HDV) has seen $640 million in outflows.
When dividend products from the Big Three in ETFs—Vanguard, BlackRock, and State Street—are hurting, it shows that no product is safe when investors anticipate a big change in the markets. Not even dividend ETFs.
Before it's here, it's on the Bloomberg Terminal.
LEARN MORE