Giving Hippies Key to Portfolio Is Not Such a Bad Idea After All
Call it the intersection of Wall Street and Shakedown Street: topics that may sound more at home in a hacky sack circle at a Grateful Dead concert parking lot are showing up in stock-market discussions more and more often these days.

Some of the fundamentalists from both streets may bristle at the comparison, but the trend of incorporating environmental, social and governance (or "ESG") considerations into investment decisions seems to be spreading faster than the clouds of smoke during the opening number of a Dead show.

Here's just a small sampling of the ESG-related topics that have landed in the inbox around here recently:
"A study released today by Calvert Investments shows a positive material impact of ESG factors on long-term equity performance."
"Institutional Shareholder Services Appoints Georgina Marshall as New Head of Global Research." (She has led ISS's ESG efforts.)
From MSCI Inc.: "Webinar: Can ESG Add Alpha?"
"Euronext and Vigeo create a new ESG index dedicated to companies from emerging market countries."
"Corporate Sustainability: First Evidence on Materiality"
Lest you think these all are examples of book-talking from firms with a horse in the ESG race, note that the last one is a study by Harvard Business School professors Mozaffar Khan, George Serafeim and Aaron Yoon. They conclude:
Using both calendar-time portfolio stock return regressions and cross-sectional return prediction regressions we find that firms with good ratings on material sustainability issues significantly outperform firms with poor ratings on these issues.
Laymen's translation: Don't kick that hippie off the investment committee just yet. That is also the conclusion of the Calvert report and a study last month by MSCI (absent this author's preferred vernacular for ESG investors).

MSCI looked at two ways to play the ESG craze. The first, which it calls a "tilt" strategy, builds a portfolio that overweights global stocks that score highest in the firm's ESG ratings. The other is a momentum strategy that overweights companies with improving ratings. (In this case, overweight refers to owning more of a stock than is represented in a benchmark index, rather than what happens to a hippie who eats too much Ben & Jerry's). Both strategies outperformed the MSCI World Index over the last eight years, with the momentum strategy picking up steam starting in 2013: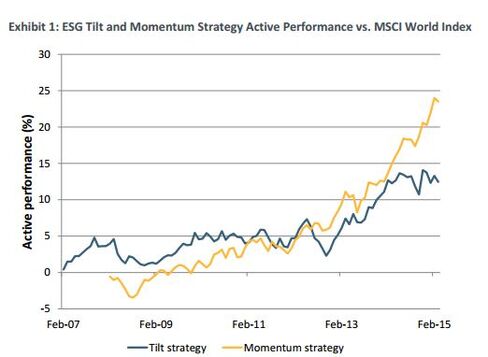 The companies that score well on ESG issues may surprise you.

Apple Inc. and Nike Inc. show up in the top holdings of the iShares MSCI USA ESG Select Social Index (known by its ticker KLD), despite years worth of bad press surrounding the working conditions in factories that make their products. Marathon Oil Corp. and Hess Corp. are owned by the ETF despite being in the business of producing fossil fuels. Part of the reason is that the scores are normalized by their industries -- in other words, in some cases they may be picking out the cleanest shirts in the hamper.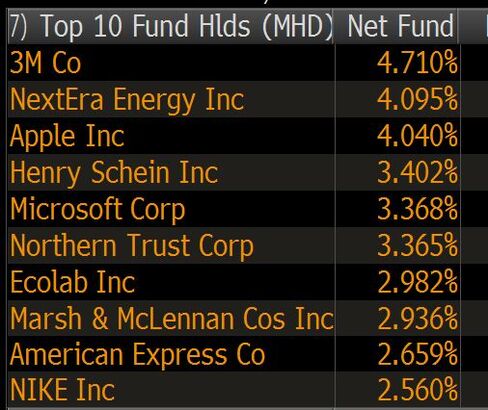 The big question, though, is why would companies with high ESG grades outperform? Researchers at MSCI believe firms that take ESG considerations more seriously are able to dodge things like environmental fines and labor disputes, as well as take advantage of clean technologies. The reduction in potential liabilities is quickly recognized by the market and priced into the shares, MSCI's researchers conclude.

The Harvard professors throw out some other theories -- that the share price performance could be a result of demand from investors looking for more ESG-focused companies, or even a reaction to campaigns that are essentially a "marketing ploy by firms and amount essentially to cheap talk." They dismiss these notions, however, in favor of the idea that the initiatives based on the most important sustainability considerations do create shareholder value by boosting profitability and sales.

So don't tell me this alpha ain't got no heart.
Before it's here, it's on the Bloomberg Terminal.
LEARN MORE