FT Chase Capped by Nikkei Leapfrogging Axel Springer Bid
For Nikkei Inc., Japan's biggest financial news group, Thursday's $1.3 billion deal to buy the Financial Times capped a lengthy pursuit of the pink-hued newspaper.
Eager to diversify outside of its home market and gain gravitas in the English-speaking world, Nikkei had approached owner Pearson Plc repeatedly over the past few years about buying the FT, only to be told the title wasn't for sale, according to people familiar with the matter who asked not to be identified because the information is private.
That changed suddenly several weeks ago, when Pearson and its chief executive officer, John Fallon, had a change of heart that opened a path to a deal.
The following is based on off-the-record conversations with people involved in the sale, all of whom asked to remain anonymous in order to speak freely.
The race that followed between Nikkei, Germany's Axel Springer SE and other suitors for FT Group, which includes the storied newspaper and smaller publications, showed how top-tier media properties can still attract intense interest from potential buyers, even as digital competitors upend the journalistic landscape.
Nikkei and Springer's competition came so close to the wire that the FT's own homepage was still reporting the German group as the leading bidder after Nikkei had announced its deal.
Starting Gun
Pearson fired the starting gun early in the British summer, when the company put word out to potential buyers that it was prepared to sell.
After years of on-and-off deliberations, Fallon believed a long and costly project to transform the FT into a digital-first media platform was beginning to bear fruit, making it ripe for a sale. At the same time, Pearson's corporate mission was moving sharply away from that of the FT. The company has shed most of its media properties to focus on its more lucrative education businesses.
Axel Springer, the publisher of best-selling tabloid Bild and an investor in Business Insider, also forced the issue. Along with Google Inc. and a number of private-equity firms, it had been in discussions with Pearson since the beginning of the year that focused on content and distribution partnerships. In Axel Springer's case, though, those discussions had gradually turned to serious deliberations about an outright acquisition.
Potential Buyers
Eager to get the best possible price, Pearson then asked its advisers to contact other potential buyers to gauge their interest, among them France's Vivendi SA and Bloomberg LP, the parent of Bloomberg News.
Nikkei and Springer, however, soon emerged as the most serious contenders for the paper, for which Pearson was asking about 800 million pounds ($1.2 billion).
Spokesmen for Pearson, Google, Vivendi and Bloomberg declined to comment, while a representative for Axel Springer didn't immediately respond to a request for comment. Bloomberg competes with the FT to provide news and financial information.
Incongruously for a title associated with dapper London bankers, within Pearson the sale effort was code-named "Falstaff," for the portly, hard-drinking Shakespearean buffoon. The primary venue for talks was more appropriate to the FT's history: Pearson's executives and advisers huddled at the offices of the law firm Freshfields Bruckhaus Deringer on Fleet Street, the traditional home of the British press.
Freshfields, boutique investment bank Evercore Partners Inc., Goldman Sachs Group Inc. and JPMorgan Chase & Co. advised Pearson.
Pole Position
Efforts to keep discussions under wraps stumbled on Monday, when Bloomberg reported that the company was exploring a sale of the FT and named Axel Springer as a potential buyer. With Pearson earnings looming on Friday, the talks accelerated, with a goal of getting a deal agreed beforehand.
Up until Thursday morning, Axel Springer was clearly in the pole position. An hour before the deal was announced to the public, it was still in the lead. That changed suddenly when Nikkei responded with a knockout last-minute offer about 100 million pounds higher than Axel Springer's.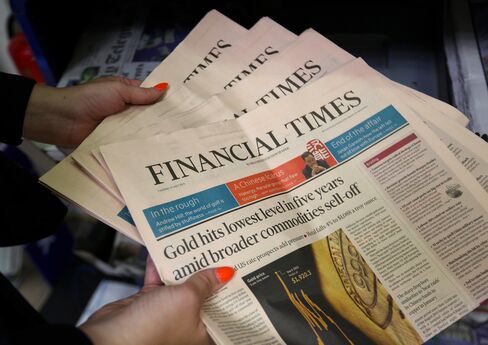 In an e-mail to subscribers around 3 p.m. London time, Nikkei announced that it was the winner –- stunning FT journalists who'd already begun to joke via Twitter about practicing their German.
The intensity of the competition was reflected in the 844-million-pound price, which excludes Pearson's stake in The Economist and the building on the banks of the Thames that houses the FT's London headquarters.
It values the FT Group at 35 times adjusted operating profit. The Washington Post was valued at 17 times a similar earnings metric in its 2014 sale to Amazon.com Inc.'s founder, Jeff Bezos.
'Good Home'
Nikkei, advised by bankers from Rothschild, had to bump its offer price several times without knowing for sure who its competitors were, or how numerous. Skadden Arps Slate Meagher & Flom was Nikkei's legal adviser.
The deal is the largest foray ever into English-language media by a Japanese company. It follows much smaller overseas experiments by Nikkei, including a deal last year to buy a stake in the design and lifestyle magazine Monocle, and the 2013 start of the Nikkei Asian Review, an English weekly.
The FT, with some 600 journalists, deep links to the British establishment, and a long history of editorial independence, will be a far greater challenge. At a media briefing in Tokyo on Friday, Nikkei CEO Naotoshi Okada said he would "cherish" the FT's autonomy while also seeking to run "more and more" Nikkei articles in the British paper.
"We wanted a new owner committed to editorial independence and focused on journalism," Fallon said on a Thursday conference call. "We believe we got fair value for the FT and found it a good home."
Read this next:
(An earlier version of this story was corrected to fix an incorrect reference to the FT's purchase price.)
Before it's here, it's on the Bloomberg Terminal.
LEARN MORE