China H-Share Plunge Undercuts Analyst Argument for 34% Gain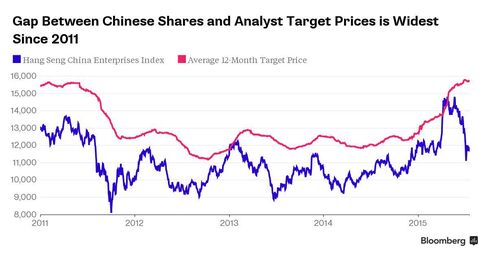 Analyst predictions that Chinese stocks in Hong Kong will reverse the world's biggest rout and climb 34 percent over the next 12 months are too optimistic, according to RS Investment Management Co.
The gap between the consensus target price for the Hang Seng China Enterprises Index and the current level reached its widest since 2011, as the attached chart shows. The rally prediction is the largest among major global markets, with only Greece -- where stocks can't currently be traded -- Egypt and Peru having similar projected gains.
The gauge of so-called H shares retreated 12 percent over the month through Wednesday, the worst performance among 93 benchmark stock indexes worldwide. While that's reduced valuations relative to global shares, government intervention in mainland equities has dented confidence in pledges to open up the nation's capital markets, says Tony Chu, a Hong Kong-based money manager at RS Investment, which oversees about $20 billion.
"There will be short-term pain before seeing long-term gain," Chu said. "The market is attractive in terms of valuations, but we do need to see more concrete catalysts for the market to re-rate," including progress on policies to overhaul the economy, he said.
Chinese stocks traded in Hong Kong entered a bear market in July amid a plunge in mainland equities that erased $4 trillion of value. The ruling Communist Party has gone to extreme lengths to shore up the nation's stock market, including a ban on selling by major shareholders, halting initial public offerings and allowing more than 1,400 companies to suspend trading.
Projected Gain
Analysts remain undaunted, increasing their 12-month forecasts for the Hang Seng China Enterprises measure to the highest since 2008 this month. The 34 percent predicted gain is twice the estimated advance for the Shanghai Composite Index, and three times the average 11 percent increase seen for stock indexes in the 20 largest markets, according to data compiled by Bloomberg.
Earnings growth for companies in the H-share gauge is unlikely to be enough to spur a rally of that magnitude, according to Arthur Kwong, Hong Kong-based head of Asia-Pacific equities at BNP Paribas Investment Partners, which oversees about $600 billion globally. Banks, which make up more than 40 percent of the Hang Seng China Enterprises Index, are likely to suffer from interest-rate cuts, he said.
"We're not that aggressive," Kwong said. "For any rally more than 10 to 20 percent, it has to be supported by solid earnings. We're not really seeing a structural growth in the bottom line yet."
Lending Margins
The central bank's four interest-rate reductions since November, aimed at stoking economic growth, are putting pressure on lending margins. Analysts expect Bank of China Ltd.'s earnings per share to decline in 2015, data compiled by Bloomberg show. They see a 4.3 percent earnings increase for the H-share gauge over the next 12 months.
The Hang Seng China measure now trades at 1.2 times net assets, 45 percent less than the MSCI All-Country World Index. The gap is near the widest since 2003 and compares with an average discount of just 13 percent during the past 14 years.
The H-share index rose 0.9 percent to 11,834.47 at the close on Thursday.
"The valuation part is there, which for most of the world you can't say anymore," said Mark Matthews, head of Asia research and a managing director of Bank Julius Baer & Co. "That provides support, but the question is can it go up? You need to see China go up and you need a relatively healthy backdrop in the rest of the world."
Before it's here, it's on the Bloomberg Terminal.
LEARN MORE