Police Deaths Fuel Lira Drop as Turkey Security Concerns Mount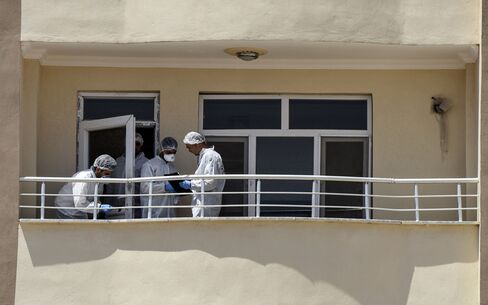 The lira fell the most in emerging markets and bonds slid after a second possible terrorist incident in three days added security concerns to a list of reasons to sell the Turkish currency.
The lira weakened 1 percent to 2.7116 against the dollar at 6:26 p.m. in Istanbul, taking this week's decline to 2.1 percent. Two police officers were found dead at their home in Sanliurfa, near Turkey's border with Syria, AHaber TV channel said today, two days after a suspected suicide bomb killed 32 people.
Monday's bombing, the deadliest in more than two years, comes during a period of political instability as the ruling AK Party struggles to find a coalition partner after indecisive elections on June 7. This week's drop has wiped out recent gains that came on the back of weakening oil prices and leave Turkey's currency 14 percent weaker in 2015.
"Ongoing political uncertainty, security risks and a still large current-account deficit leave lira vulnerable to external shocks," James Lord, Morgan Stanley's London-based head for global emerging-market strategy, wrote in an e-mailed report. "And with the U.S. economy expected to accelerate and the dollar likely to rally, we think that lira will continue to weaken."
Prime Minister Ahmet Davutoglu said Tuesday that he won't let factions in Syria's civil war export their fight to Turkey. Terrorist group Islamic State, which controls vast swathes of Iraq and Syria, is the prime suspect in Monday's bombing, he said Monday, though no one has claimed responsibility.
PKK Killing
The two police officers were killed by HPG, a military organization linked to the Kurdistan Workers' Party, or PKK, which accused them of cooperating with Islamic State, the group wrote on its website.
Two-year government bond yields rose 10 basis points to 9.78 percent, the highest in almost a month. The Borsa Istanbul 100 Index slid 0.4 percent.
"The market is very sensitive toward any news that may be perceived as linked to Suruc," Evren Kirikoglu, a strategist at Akbank in Istanbul, said by e-mail, referring to the location of Monday's suicide attack near the border with Syria.
Twitter Inc.'s website was inaccessible to many users in Turkey on Wednesday following a reporting ban on Monday's attack. A Turkish court has since lifted ban, which was imposed after Twitter failed to implement a ruling that tweets calling for illegal demonstrations following Suruc bomb attack be removed.
Turkey's ruling party AKP lost its parliamentary majority in the June vote, raising prospects for another election if a coaltion or minority government can't be formed by mid-August.
"Political risks are piling up for Turkey at a time investors are waiting to see a government formed ASAP and focus on economic recovery," Gulsen Ayaz, the director of institutional equity sales at Deniz Yatirim in Istanbul, said by e-mail. "Recent news flow is just pushing the waiting period further, intensifying the loss in stocks."
Before it's here, it's on the Bloomberg Terminal.
LEARN MORE