Treasuries Swing on Corporate America's Continued Borrowing Spree
Bank of America finds company bond sales at record pace add clout
News of a debt offering from Intel Corp. took Treasuries on a rollercoaster ride.
The brief swings Wednesday are the latest sign that corporate-bond offerings are driving bigger moves in U.S. government debt prices this year, as a historic wave of issuance competes with Treasuries for space in investors' portfolios, according to strategists at Bank of America Corp. The trend has picked up as post-financial crisis regulations prompt Wall Street dealers to step back from Treasury trading, which means smaller trades can move prices.
``The market can't handle the corporate supply,'' said Thomas di Galoma, head of fixed income, rates and credit at ED&F Man Capital Markets in New York. ``The price swings are more dramatic.''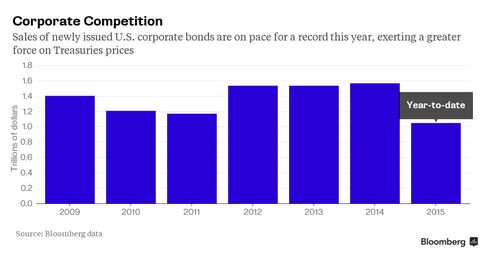 Companies are racing to take on debt before the Federal Reserve's first interest-rate increase in nearly a decade. The $1 trillion of bonds issued this year is on pace for a record. U.S. corporate bonds' 3.4 percent average yield looks attractive compared with about 2.3 percent on benchmark Treasury 10-year notes, according to data compiled by Bloomberg.
``More and more investors are using their capital for the corporate bond market,'' said Peter Tchir, head of macro strategy at Brean Capital LLC in New York. ``You can get much better value there.''
Treasury Yields
Treasury 10-year note yields were little changed at 2.32 percent as of 5 p.m. New York time, according to Bloomberg Bond Trader prices. During a five-minute span, the yield rose to touch 2.33 percent on news of Intel's debt sale. It also fell as low as 2.30 percent, the least since July 9.
Intel Corp. is selling bonds as soon as Wednesday for the first time since 2012 to back part of its $16.7 billion takeover of Altera Corp. The world's biggest chipmaker may issue the securities in as many as four parts, according to a person with knowledge of the matter.
One reason this year's corporate bond offerings are having a bigger effect on Treasuries is that the offerings have been larger. While the overall number of corporate bond sales has fallen slightly from the same period last year, the total volume of bonds issued is $1.05 trillion, up 9.4 percent from a year ago, according to Bloomberg data.
"When you do get these big deals, it's more focused and hits the market in a more pronounced way,'' said Ralph Axel, a U.S. interest-rates strategist with Bank of America Merrill Lynch.
And it takes less to move Treasury prices than it used to, since Wall Street banks have stepped back from trading. The amount of U.S. debt available to trade at one time without moving prices has fallen 17 percent since late last year, to $125 million, according to data from J.P. Morgan Chase & Co.
The flood of corporate bonds is expected to continue, so Treasury traders will probably keep an eye on any announcements of debt offerings, Axel said.
Before it's here, it's on the Bloomberg Terminal.
LEARN MORE