A Simple China Trading Rule to Trounce the State-Run Market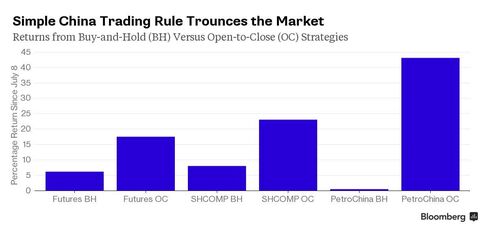 Buy when the stock market opens. Sell at the close. Repeat.
As far as trading strategies go, that's about as simple as it gets. Turns out it's also been a great way to make money in China, thanks to what analysts say is a pattern of afternoon equity purchases by state-backed funds.
When applied to the Shanghai Composite Index, the trading rule generated a 23 percent return since July 8, compared with 8 percent for a buy-and-hold approach. Use it on PetroChina Co., an obvious target of state support given the stock's heavy weighting in benchmark indexes, and the difference is even starker: 43 percent versus 0.5 percent.
Late-day rallies are the latest quirk to emerge from an equity market where government intervention -- from price ceilings on initial public offerings to bans on stake sales by major shareholders -- has increased to unprecedented levels after a $4 trillion selloff.
Policy makers are acting to prop up share prices toward the close because "they want to show people that the market has stabilized," said Jimmy Zuo, a Shenzhen-based trader at Guosen Securities Co.
To be sure, there's a catch for anyone trying to take advantage of the pattern on China's domestic stock exchanges. The country's ban against same-day trading means that if you buy shares at the open, it's impossible to sell those same securities at the close to profit from an intraday gain. You'd have to wait until the following session to complete the trade.
Support Fund
Thankfully, there's no such rule in China's futures market. The open-to-close strategy on CSI 300 Index contracts has returned 18 percent since July 8, when the mainland market bottomed. That compares with about 6 percent from buy and hold, after accounting for the rollover of contracts in the middle of this month.
"It seems to be an exploitable and workable strategy in the futures market, unless there is some unexpected big news," said William Fong, an investment director for Asian equities at Baring Asset Management in Hong Kong.
The Shanghai Composite rose 2.4 percent at the close on Thursday, after opening with a 0.1 percent drop. The Deutsche X-trackers Harvest CSI 300 China A-Shares ETF rose 3.2 percent to $44.39 at 11:33 a.m. in New York.
Like any pattern, its lifespan will diminish as more investors catch on, said Bernard Aw, a Singapore-based strategist at IG Asia Pte Ltd. There's also the risk that state-backed buyers disappear as the Shanghai Composite approaches 4,500 -- a target Chinese brokerages cited when they unveiled a market support fund on July 4.
Those concerns may not be enough stop Chinese traders from betting the pattern will continue, particularly given the meager rates on offer from investment alternatives like bank deposits, said Yen Chiu, a Hong Kong-based trader at Shenwan Hongyuan Group Co.
"The return is huge," Yen said. "Investors are afraid of holding stocks for long, but they do know that the government will somehow support the market."
— With assistance by Kyoungwha Kim
Before it's here, it's on the Bloomberg Terminal.
LEARN MORE