Finns Told Pay Cuts Only Way to Rescue Economy From Failure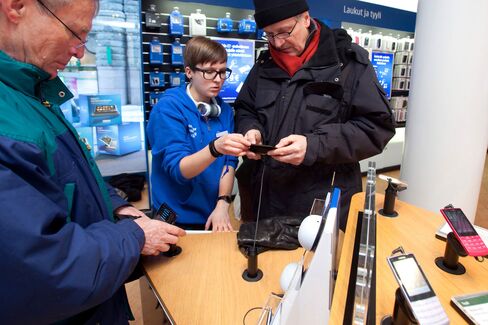 One of Germany's staunchest allies in backing euro-zone austerity is about to feel some of the pain the policy brings with it.
Finnish Prime Minister Juha Sipila will this month battle unions to reduce the cost of labor. Without the measure, he says Finland will need a 1.5 billion euro ($1.6 billion) austerity package to meet budget goals.
"Reducing labor costs is the first big challenge on the path of Finnish economic revival," Aktia chief economist Anssi Rantala said in an interview. "The country cannot afford to fail in this."
Sipila wants Finnish labor to cost 5 percent less by 2019, a proposal unions already rejected in May, one month after the self-made millionaire won national elections on pledges to save Finland's economy. He's due to put forward a detailed plan on July 31 and unions have three weeks to respond.
Rantala at Aktia, a Finnish bank, says the fastest way to cut labor costs is to increase work hours without raising pay, in what amounts to an effective wage cut that might not look as bad on paper.
"Increasing hours worked would be a really strong measure," said Pasi Kuoppamaki, chief economist at Danske Bank A/S in Helsinki. "That would be a step in the right direction."
Sipila needs to push through the unpopular policy to try to revive competitiveness in Finland, which has yet to recover from the loss of a consumer electronics industry once led by Nokia Oyj and a faltering paper manufacturing sector.
Greek Rescue
Unit labor costs in Finland, where gross domestic product has contracted for the past three years, are almost 20 percent higher than those of its main trading partners, including Germany. Finland's euro membership means it can't rely on a weaker currency to help close that gap. Unemployment has held at, or above, 10 percent for the past five months.
Meanwhile, Sipila got the go-ahead from the Finnish parliament's Grand Committee earlier this month to start negotiations on a third Greek bailout, after austerity policies failed to end that nation's crisis. A poll showed 57 percent of Finns don't want their government to back another Greek rescue.
Read this next:
For related news and information: Finnish Wage Deal Not Enough to Restore Competitiveness Union Power Is Targeted in Finnish Plan to Resurrect Economy Greek Haircut Talk a 'Useless' Distraction, Finnish PM Says
Before it's here, it's on the Bloomberg Terminal.
LEARN MORE