EasyJet Says Summer Sales to Spur Gain in Full-Year Earnings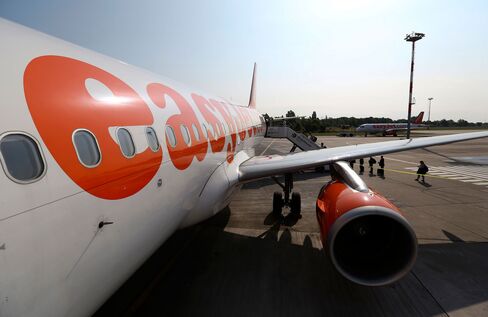 EasyJet Plc said sales in the key summer period are recovering from a dip in the spring, with pretax profit for the year ending Sept. 30 set to increase by as much as 14 percent.
Shares of EasyJet rose almost 5 percent after the Luton, England-based company said pretax profit will be between 620 million pounds ($968 million) and 660 million pounds, up from 581 million pounds a year earlier. Analysts had been expecting earnings of 636 million pounds, the average of 21 estimates.
With 77 percent of second-half seats now booked, demand at Europe's second-biggest low-cost carrier is rebounding from the fiscal third quarter, when air traffic control strikes and the timing of Easter cut revenue 1 percent to 1.23 billion pounds.
"For the full year, EasyJet will grow revenue, profits and dividends," Chief Executive Officer Carolyn McCall said in the release, adding that the carrier has achieved a "good performance in the U.K. and beach routes across Europe."
EasyJet shares advanced 4.9 percent before trading up 73 pence, or 4.4 percent, at 1,739 pence, wiping out the previous decline for 2015 and valuing the company at 6.89 billion pounds.
Passenger Tally
While per-passenger revenue fell 2.8 percent to 59.08 pounds at constant currencies, that was less than the 4 percent drop forecast on May 12, after McCall first indicated that third-quarter sales were under pressure.
Passenger numbers for the quarter still rose 6.2 percent to 19.1 million as EasyJet stepped up its challenge to rivals including Air France-KLM Group and Deutsche Lufthansa AG by expanding at bigger airports and targeting corporate travelers.
The U.K. company, which had its first winter-season profit in more than a decade in the first half through March 31, didn't provide an earnings figure for the quarter today.
EasyJet's full-year guidance appears to account for the impact of a possible strike over pay in the U.K. and a retreat at Rome Fiumicino airport, where competition is fierce, as well as fallout from the Greek crisis and last month's terror attack in Tunisia, Cantor Fitzgerald analysts said in a note.
Flybe Group Plc, Europe's biggest regional airline, said sales rose almost 10 percent in the same quarter as passenger numbers gained by the same degree, while per-seat costs fell 3.4 percent as it pursues a restructuring plan.
Shares of Exeter, England-based Flybe, a specialist in linking smaller cities, rose 7.8 percent and traded 5.6 percent higher at 75 pence, paring declines this year to 32 percent.
Before it's here, it's on the Bloomberg Terminal.
LEARN MORE