Commodity Losses Accelerate as Miners See Lows of 2009 Crisis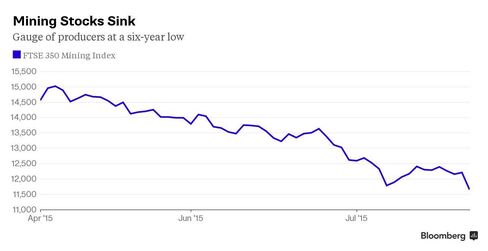 The commodities rout that's pushed prices to a 13-year low pulled some of the biggest mining and energy companies below levels seen during the financial crisis.
The FTSE 350 Mining Index plunged as much as 4.9 percent to the lowest since 2009 on Wednesday, with BHP Billiton Ltd. and Anglo American Plc leading declines. Gold and copper are near the lowest in at least five years, while crude oil retreated to $50 a barrel.
"This commodity bear market is like a train wreck in slow motion," said Andy Pfaff, the chief investment officer for commodities at MitonOptimal in Cape Town. "It has a lot of momentum and doesn't come to a sudden stop."
Investors are fleeing raw materials as the Federal Reserve moves closer to raising borrowing costs and economic growth expands at the slowest pace since 1990 in China, the biggest commodities user. Muted demand from other emerging markets and prospects for more oil supply are adding to the bearish sentiment that UBS Group AG strategist Julian Emanuel described as a "perfect storm."
The Bloomberg Commodity Index is down almost 60 percent from its 2008 peak. It declined as much as 1.1 percent to the lowest since April 2002 on Wednesday, led by declines in soybean oil, copper, zinc and gasoline. Prices have mainly slumped on concern supply is more than adequate, said Harry Tchilinguirian, head of commodity markets strategy at BNP Paribas SA in London.
Metals Decline
Copper dropped 1.8 percent in London while gold futures fell a 10th day in the longest run of losses since 1996.
"A lot of people feel aluminum, nickel and copper are signaling that something is truly rotten inside of China and maybe India as well," said Eric Crittenden, chief investment officer at Phoenix-based Longboard Asset Management LLC, who manages $304 million.
Miners are suffering, with more than $140 billion erased this year from the value of the Bloomberg World Mining Index. BHP Billiton Ltd., the world's largest miner by market value, closed at its lowest since 2009 in London.
Glencore, the commodities giant whose 2011 initial public offering marked the recent peak of the natural resources boom, dropped 5.4 percent to a record low in London. This year's 23 percent slump cost billionaire leader Ivan Glasenberg almost $900 million in wealth, according to data from the Bloomberg Billionaires index.
Barrick, the biggest miner of the precious metal, tumbled as much as 5.3 percent in Toronto. Royal Dutch Shell Plc, Europe's largest energy company, lost 2.7 percent in London.
Boom Ended
The commodities slump has ended a decade-long super-cycle of demand fueled by double-digit growth in China. The nation will expand 7 percent this year, down from as much as 14 percent in 2007, according to economist estimates compiled by Bloomberg. The International Monetary Fund forecast growth among emerging countries in Asia as 6.4 percent, the lowest in more than a decade.
"The problem is that the expected growth from emerging markets is not what people thought it was going to be at this point," said Brian Barish, who helps oversee about $12.5 billion at Denver-based Cambiar Investors LLC.
Before it's here, it's on the Bloomberg Terminal.
LEARN MORE