Buhari Says U.S. Will Help Trace Nigeria's Stolen Oil Funds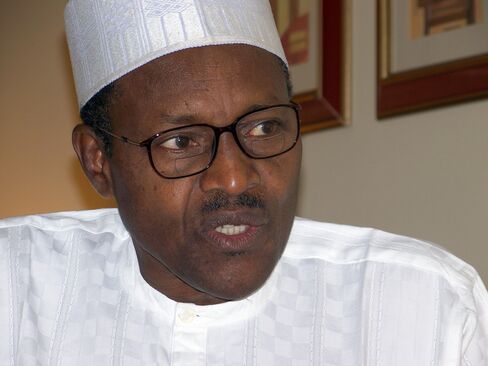 Nigerian President Muhammadu Buhari said the U.S. will help trace and recover funds from the sale of about 250,000 barrels of oil that are stolen each day in Africa's biggest producer of the commodity.
The U.S. and other developed nations are helping identify accounts where money has been deposited and Nigeria will prosecute the suspects, Buhari told an audience of Nigerians in Washington on Tuesday, according to a statement from his office on Wednesday. Some former ministers sold as much as 1 million barrels a day, he said.
"The amount involved is mind-boggling," Buhari said. "A lot of damage has been done to the integrity of Nigeria with individuals and institutions already compromised."
Buhari, who took office on May 29 after defeating Goodluck Jonathan in March elections, pledged during his campaign to clamp down on graft, including in the oil industry. Crude provides Africa's biggest economy with about two-thirds of government revenue and 90 percent of export earnings.
Buhari asked U.S. President Barack Obama this week to help locate and return $150 billion believed to have been stolen by corrupt officials.
Battered Economy
While Nigeria's economy has been battered by years of entrenched graft and a halving of oil prices in the past year, Buhari said he was skeptical about removing fuel subsidies.
Transport, housing and food prices will "go out of control and the average worker would suffer untold hardship" if gasoline subsidies were removed, according to the statement.
Buhari asked for patience because he hasn't yet formed his cabinet and is trying to "put some sense into governance" and deal with corruption. On Wednesday, he joked that anxious Nigerians have gone from affectionately calling him "Baba Buhari" to "Baba Go Slow."
Nigeria's government is also struggling to contain attacks and bombings by Islamist militants in the north, with hundreds of people killed in recent weeks and more than 1.5 million displaced by Boko Haram's six-year insurgency.
On Tuesday, suspected rebels attacked Buratai, the northeastern home town of the army Chief of Staff Tukur Buratai, killing two people and destroying homes, said resident Ibrahim Buratai, who fled the violence.
Buhari said his administration would only negotiate with Boko Haram if genuine leaders of the rebel group came forward.
Schoolgirls Release
Read this next:
He said the government would engage in talks with the militants if it would help obtain the release of more than 200 schoolgirls who were abducted from the northeastern town of Chibok last year, causing an international outcry.
"Our objective is that we want the girls back, alive and returned to their families and rehabilitated," said Buhari. "We are working with neighboring countries."
In a speech in Washington on Wednesday, Buhari said the application of a U.S. human rights law denied Nigeria access to appropriate "strategic weapons" to eradicate Boko Haram and has inadvertently "aided and abetted" the group's campaign.
The U.S. Leahy Amendment blocks arms sales and direct aid to any military accused of systematic human rights abuses. In talks on Monday, Obama promised to provide Buhari's government with greater U.S. support for counter-terrorism operations.
"Our forces have remained largely impotent because they don't possess the appropriate weapons and technology, which we could have had, had the so-called human rights violations not been an obstacle," said Buhari.
Before it's here, it's on the Bloomberg Terminal.
LEARN MORE