With Black Hawk Deal, Lockheed CEO Hewson Charts New Flight Plan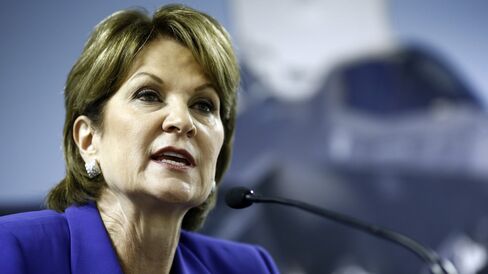 Marillyn Hewson is not one for snap decisions. But when she's ready to move, she can be bold.
Two and a half years into the job as CEO of Lockheed Martin Corp., her $9 billion purchase of helicopter maker Sikorsky has put the defense giant on a decidedly new course: expanding Lockheed into lucrative new military and civilian markets, including building Black Hawks and the presidential helicopter.
It's the pay-off of gaining investor confidence after Hewson unexpectedly landed the top job in 2013 following then-incoming CEO Christopher Kubasik's abrupt withdrawal two months before he was slated to start.
Hewson has made a name for herself by improving execution on the F-35 fighter, the largest weapons program in history, and smoothing frayed relations with the Pentagon. The first of several versions of the F-35 is expected to be ready for combat by the end of the month.
"She could not have done this acquisition on the first year of her job because Wall Street and the board of directors wanted her to prove herself, and she has," said Loren Thompson, chief operating officer of the Lexington Institute, a non-profit, public-policy group. Thompson is on a retainer with Lockheed for consulting work.
The day she announced the Sikorsky deal, Hewson also unveiled plans to sell Lockheed's underperforming information technology businesses. The plan to divest assets roughly the same size as Sikorsky enables Lockheed to continue her successful strategy of boosting unit profits and returning cash to shareholders.
'Milestone Marker'
Margins climbed to the highest level in more than two decades last year and the shares have outperformed those of defense peers General Dynamics Corp. and Raytheon Co., despite declining revenue.
"This is a milestone marker," said Byron Callan, an analyst with Capital Alpha Partners LLC in Washington.
Hewson, 61, who said in a 2012 speech she had moved her family eight times to bolster her career at Lockheed, wasn't the first choice to replace Robert Stevens, who ran Lockheed from 2004 through the end of 2012. She was slated to become chief operating officer and Kubasik would become CEO at the beginning of 2013, but Kubasik withdrew after an investigation revealed a "lengthy, close and personal relationship" with one of his subordinates.
After earning business and economics degrees from the University of Alabama, Hewson worked her way up through Lockheed's ranks since 1983, giving her intimate knowledge of the business units and workforce. That helped her set strict financial metrics that increased profits and allowed for higher dividends and share buybacks, Thompson said.
Mom's Resilience
Hewson, in an article she wrote for Politico in 2013, said she learned "everything I needed to know about leadership" from her mother's resilience raising five children on her own after Hewson's father died when she was nine years old.
Hewson is a skilled time manager, said Mike Hardin, a former dean of the University of Alabama's Culverhouse College of Commerce, where Hewson is a member of the business administration board of visitors. Hewson reviews in detail her calendar after every month to track how she spent her days to make sure she's devoting enough time to the company's priority issues, he said.
"I'm not surprised at the success she's had," said Hardin, who in July became provost of Samford University in Birmingham, Alabama.
New Challenges
With the Sikorsky acquisition, Hewson will face challenges managing a commercial helicopter business during a downturn in the oil and gas industry. She will also oversee decisions on the next-generation commercial helicopters as competition from Airbus Group SE and Textron Inc.'s Bell Helicopter heats up, said Callan.
Lockheed will have more success with Sikorsky than United Technologies Inc., a maker of commercial jet engines, air-conditioners and building elevators, because of its experience dealing with defense contracts, Hewson said on a July 20 conference call with analysts. About three-quarters of sales for Sikorsky, the maker of Black Hawk helicopters, goes to defense.
"Our core business," said Hewson on the call, "is doing business with government."
Although Lockheed is now one of the best run defense companies, the helicopter business will be a challenge because it requires higher volume production for more varied customers than the low output of fighter jets, said George Ferguson, a Bloomberg Intelligence analyst.
"Marillyn is going to get a chance to prove herself now because this business is a little bit different from custom manufacturing small lots of aircrafts," he said.
The past is a good indication Hewson will be up to the task, said Joe DeNardi, an analyst with Stifel Financial Corp. Since 2013, Lockheed has beaten analysts' earnings expectations every quarter even as defense spending has declined. The shares have more than doubled while the Standard & Poor's 500 Index has gained less than 50 percent.
"If you look at the stock performance over the past couple of years, it's tough to give her a grade of anything less than an A," DeNardi said.
Before it's here, it's on the Bloomberg Terminal.
LEARN MORE