Burundi Votes in Presidential Election After Gunfire, Blasts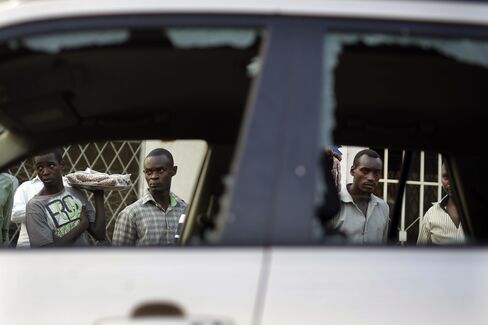 Burundians voted after a night of gunfire and explosions in the country's capital as President Pierre Nkurunziza looked set to win re-election to a disputed third term in the East African nation.
The streets of Bujumbura were quiet by Tuesday evening with banks and shops closed for a public holiday. There were no queues at the city's polling stations, though turn-out was higher in the country's rural areas, including Nkurunziza's hometown of Ngozi in the north, the Associated Press reported.
At least 77 people have died in the country since Nkurunziza's party in April nominated him as its candidate for president. Opponents say the 51-year-old leader's bid to extend his tenure violates a two-term limit set out in deals that in 2005 brought an end to a civil war in which 300,000 people died.
The unrest in Burundi has the potential to destabilize the Great Lakes region that includes the Democratic Republic of Congo, Africa's top copper and tin producer, and Rwanda, where the economy is still recovering from a genocide in 1994. More than 100,000 Rwandans have fled to neighboring countries in the past three months. Civil wars in the early 1990s in Burundi and Rwanda helped lay the ground for conflict in neighboring Congo, the deadliest war in the continent's modern history.
Gunshots, Blasts
Gunshots could be heard from about 9 p.m. on Monday night until about 3 a.m. in Bujumbura, along with almost a dozen blasts. United Nations Secretary-General Ban Ki-moon urged all parties to "refrain from any acts of violence that could compromise the stability of Burundi and the region," according to a statement published on the UN's website.
The U.S. State Department said the presidential elections won't be credible. The authorities in Burundi have harassed opposition and civil society members, closed media outlets and intimidated voters in the run-up to the election, State Department spokesman John Kirby said in a statement on Tuesday.
"Attempts by the government of Burundi to deny citizens the ability to choose their leadership freely, without intimidation and threat of violence, will force the United States to carefully review all aspects of our partnership not yet suspended, including the imposition of visa restrictions on those responsible for -- or complicit in -- promoting instability in Burundi through violence," Kirby said.
At least four of Nkurunziza's eight opponents in the vote, including the main opposition leader Agathon Rwasa, said they won't take part in the elections. Others including Jean Minani from the Frodebu Nyakuri party, and former presidents Sylvestre Ntibantunganya and Domitien Ndayizeye withdrew their candidacy because the government wasn't letting them campaign freely.
The UN said earlier this month that Burundi's parliamentary elections held on June 29 weren't free or fair.
Before it's here, it's on the Bloomberg Terminal.
LEARN MORE