Soybeans in India Get 'Rebirth' With Return of Monsoon Rains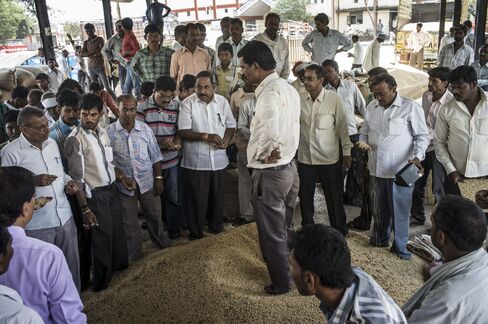 Rains returned to India's main soybean- growing areas, ending a three-week long dry spell that threatened to shrivel the nation's biggest oilseed crop. Futures in Mumbai tumbled to the lowest since March.
Some soybean fields in Madhya Pradesh, which produces more than 50 percent of the nation's crop, got more than 100 millimeters (3.9 inches) of rain over the weekend, according to the India Meteorological Department. The showers were timely for the crop as it eased the moisture stress, said Davish Jain, chairman of the Soybean Processors Association of India, said by phone from Indore on Monday.
The revival of rain should also augur well for rice, cotton and other rain-fed crops and help Prime Minister Narendra Modi contain food prices in Asia's third-largest economy. A bigger oilseed harvest may cut reliance on imports of palm and soybean oils. The first back-to-back monsoon shortfall in three decades is still possible as the first El Nino since 2010 strengthens, according to India's weather bureau.
"This rain has come as a shower of nectar for soybeans," said Dilip Singh Tomar, who grows soybeans in his 25-acre farm at Moradhat in Madhya Pradesh. "The crop has got a rebirth. There could have been a disaster had the rains been delayed by five to six days. Thank God, we are saved," he said by phone Monday.
Deficient Rain
The department, which in June predicted deficient rainfall, said on Monday parts of Madhya Pradesh, Maharashtra and Rajasthan states will continue to receive rains over the next two days. That should allow farmers to plant more soybeans in the coming days, Jain said.
The area under soybeans jumped to 9.57 million hectares (23.6 million acres) as of July 17, compared with 1.95 million hectares during the same period a year earlier after the early arrival of monsoon rains spurred planting, the farm ministry said on Friday. Planting of all monsoon-sown oilseeds including peanuts climbed to 12.7 million hectares from 3.8 million hectares a year ago, it said.
"The monsoon revival will benefit crops, definitely oilseeds," Prerana Desai, vice president for research at Edelweiss Integrated Commodity Management Ltd., said by phone from Mumbai. "Agriculture commodity prices will come under pressure."
Soybeans traded in Mumbai dropped as much as 2.9 percent to 3,384 rupees per 100 kilograms, the lowest level for futures since March 30. Palm oil futures retreated 0.1 percent to 2,188 ringgit ($574) a ton on the Bursa Malaysia Derivatives on Monday, the lowest level at close since July 9.
India imports more than 50 percent of its cooking oil needs -- getting palm oil from Indonesia and Malaysia and soybean oil from the U.S., Brazil and Argentina. Palm oil imports may jump to a record 9.4 million tons in the 12 months starting Nov. 1, according to Ruchi Soya Industries Ltd., the country's top refiner.
Before it's here, it's on the Bloomberg Terminal.
LEARN MORE