Puerto Rico Says Services Come Before Agency Debt Payment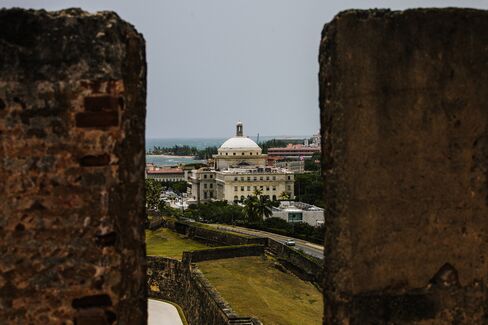 Puerto Rico's budget director ratcheted up the risk of a default on some agency securities, saying cash from the commonwealth's operating budget won't be redirected to make debt payments due next month.
The comments from Luis Cruz, director of the Office of Management and Budget, come as Standard & Poor's slashed its rating on the Public Finance Corp.'s bonds to CC from CCC-, calling an Aug. 1 default on the securities a "virtual certainty."
Puerto Rico said last week the agency failed to transfer $36.3 million to a trustee to cover the Aug. 1 debt payment because the legislature didn't appropriate the funds. Governor Alejandro Garcia Padilla last month directed island officials to create a debt-restructuring plan by Aug. 30, saying the commonwealth can't sustain its $72 billion debt burden.
"We all know the difficult situation we are facing in terms of cash flow," Cruz said during a press conference Monday in San Juan. "And we have to decide how we handle that cash flow and our priority is to provide services to citizens: health, safety, education."
A $1 million block of Public Finance Corp. tax-exempt bonds maturing August 2024 traded Monday at 24.5 cents on the dollar, for a yield of 31.8 percent, according to data compiled by Bloomberg.
Legislative Outlook
Lawmakers last month approved a budget for the fiscal year that began July 1 that doesn't include $93.7 million to repay debt-service costs on PFC bonds. The legislature did create a fund that the Government Development Bank can use to repay debt. The bank, which handles the island's borrowing deals, must ask the legislature before it can access that money.
The legislature doesn't reconvene again until mid-August, after the bonds mature. Garcia Padilla doesn't plan to call a special legislative session to bring lawmakers back earlier to discuss the Aug. 1 payment, Cruz said.
"A default on the PFC bonds would be further demonstration of increasing unwillingness to pay debt in full and also raises the potential for future unequal treatment between various types of bondholders," David Hitchcock, a S&P analyst in New York, wrote in the report.
Before it's here, it's on the Bloomberg Terminal.
LEARN MORE