Opening Havana, Washington Embassies Draw Companies, Candidates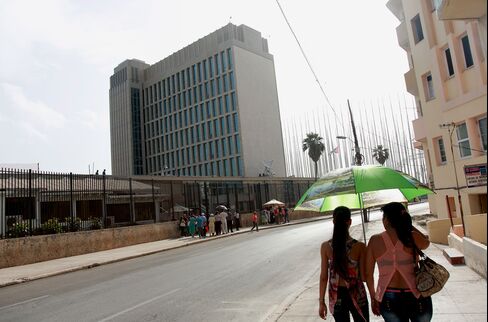 A diplomatic freeze that stretched back five decades, outlasting the Cold War and nine U.S. presidencies, formally ended Monday when Cuba and the U.S. reopened embassies.
Cuban Foreign Minister Bruno Rodriguez is attending a flag-raising ceremony at the Cuban chancery in Washington before meeting Secretary of State John Kerry, who will travel to Havana later this summer. At the State Department, the Cuban flag was hung before dawn. No ceremony was held at the U.S. embassy in Havana.
Crowds thronged a block-length stretch of sidewalk outside Cuba's embassy in downtown Washington waving signs, singing and chanting, in an atmosphere that combined political rally and street festival. One group held a canary yellow banner with the Cuban flag and the words "End the Embargo now." Another read "Salsa si, Embargo no!"
While the move to restart diplomatic relations doesn't end the U.S. trade embargo against Cuba's communist government, it brings the former adversaries the closest they have been since the waning days of President Dwight D. Eisenhower's administration.
Restoring ties "begins a new stage, long and complex, on the way to the normalization of relations, which will require the willingness to find solutions to problems that have accumulated over five decades," Cuban President Raul Castro told lawmakers in Havana last week.
Human Rights
Barriers between the U.S. and Cuba have tumbled rapidly since Castro and President Barack Obama announced their intentions to renew ties in simultaneous speeches in December. Yet while companies from JetBlue Airways Corp. to Airbnb Inc. have sought to capitalize on the improving relationship, differences over issues from human rights and democracy to the future of the U.S. Naval base at Guantanamo Bay remain.
"It's hard, because there's been so much mistrust between the two sides, maybe even dislike, and so many things that Cuba feels put upon: Guantanamo, the migration policy," said Vicki Huddleston, former head of the U.S. Interests Section in Havana, which has provided consular services in the absence of an embassy. "Those things are still right up front in Cubans' minds," Huddleston said in a June 24 phone interview.
U.S. officials reject the notion that they plan to hand over the Guantanamo base to Cuba. Attempts to end the trade embargo, meanwhile, will struggle in a Republican-led Congress.
Senator Marco Rubio of Florida, vying for the 2016 Republican presidential nomination, has said he will block any nominee Obama proposes for ambassador to Cuba. That means Jeffrey DeLaurentis, a civil servant who becomes interim charge d'affaires, will be the top U.S. diplomat on the island.
Symbolism
For more, read this QuickTake: Cuba-U.S. Reboot
"Throughout this entire negotiation, as the Castro regime has stepped up its repression of the Cuban people, the Obama administration has continued to look the other way and offer concession after concession," Rubio said in a July 1 statement.
Charles Barclay, who served as deputy chief of mission for the U.S. Interest Section in Havana from 2009 to 2012, said he expects U.S. diplomats to have more access to Cuban government officials and greater freedom to roam around the country, instead of being confined to Havana. The move has political benefits to both leaders, he added, as Castro seeks to improve the country's image for investors and Obama ends what he has described as a "failed policy" for the U.S.
"I don't know how much momentum this creates for more progress, but I wouldn't downplay the significance of the symbolism here," Barclay said of the embassy openings.
Before it's here, it's on the Bloomberg Terminal.
LEARN MORE