New Data Show How Bad Things Were for Greek Banks the Week Capital Controls Were Introduced
Cash in circulation and Target2 liability hit all-time record highs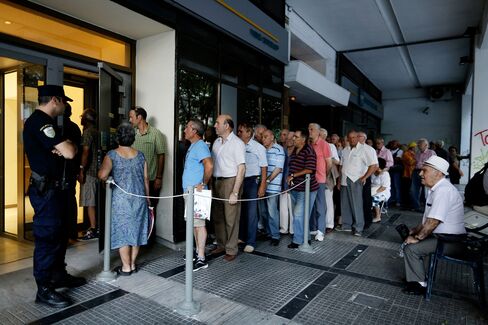 Today the Greek central bank released its monthly balance sheet for June 2015.
The balance sheet is dated to June 30—the day after capital controls were introduced in Greece.
The seven-month jog on Greek lenders was about to turn into a full blown bank run during that last weekend of June, after Prime Minister Alexis Tsipras broke talks with creditors and called a referendum over the terms attached to the country's bailout.
Savers formed long queues in front of ATMs as doubts over the country's place in the euro area spurred them to withdraw their cash from banks. The new data from the central bank shows that the total value of banknotes in circulation in Greece reached an all time high of €50.5 billion ($54.5 billion).
That's an increase of more than €5 billion in the month of June alone.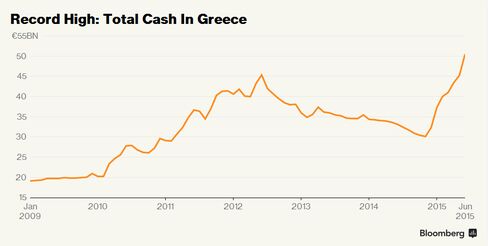 Tsipras was forced to impose a limit on withdrawals on June 28, after the European Central Bank capped Emergency Liquidity Assistance (ELA) for Greek lenders, refusing to plug the hole from continuing deposit outflows.
Much of the damage had been done already as Greek bank reliance on ECB operations, including ELA, meant that Greek Target2 liabilities with the rest of the eurosystem reached an all-time high at the end of the month.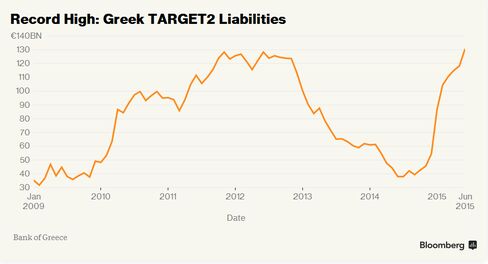 With the ECB limit on ELA, nobody, not even ordinary depositors, wanted to be exposed to Greek banks. Capital controls were the only option. That Tsipras and his then-finance minister were willing to allow things to get this serious before introducing capital controls underscores the high-risk strategy they were engaged in at the time.
Greek banks reopened this Monday, following a three-week forced holiday and only after Tsipras capitulated to creditors' demands and committed to more austerity measures and structural economic overhauls. Still, draconian capital controls, including restrictions on withdrawals and transfers of money abroad, remain in place, and Greeks queued outside branches to get only basic services from their lenders.
Before it's here, it's on the Bloomberg Terminal.
LEARN MORE